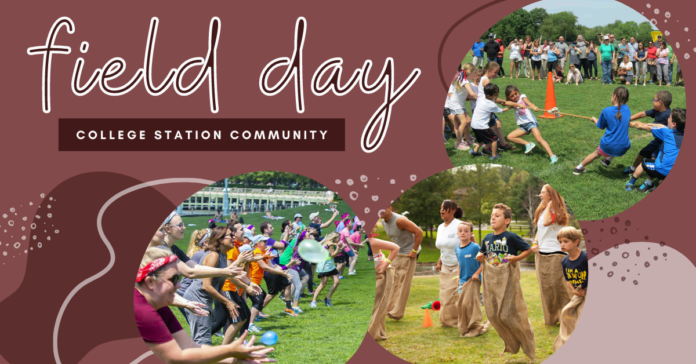 Few activities capture the spirit of summer better than playing outside with friends. Running barefoot on the grass, drinking cold lemonade in the hot Texas heat, and good vibes from spending time with friends and family make summer a treat. Later this month, the city of College Station Department of Parks & Recreation helps bring back those feelings with Community Field Day on June 26 from 5-7 p.m.
This free event focuses on inclusion and building community by holding an evening of competitions for athletes of all ages and abilities. With tons of fun games to choose from, you'll be sure to find something right up your alley. Think you're one of the strongest people in your neighborhood? Join a team to participate in the tug-of-war. Interested in testing your speed in a race against your peers? Get in line to run in the 50 yard dash. Excel at hand-eye coordination or balance? Maybe check out the egg toss or the sack races.
Even for those who choose not to participate in any events, there's still plenty of fun to go around, so come on out for Community Field Day at the Lincoln Recreation Center in W.A. Tarrow Park. More information about this event or others being held by the City of College Station can be found on their website.
Sources: https://cstx.gov/departments___city_hall/parks/events
https://www.cstx.gov/departments___city_hall/parks/lincolncenter