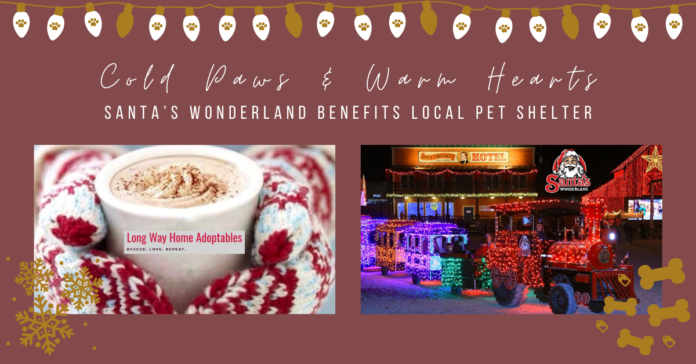 Lovable pets, hot cocoa, and Santa's Wonderland, oh my! For the fifth year in a row, on Dec. 5 from 3 p.m. to 1 a.m., Santa's Wonderland is hosting Cocoa for a Cause, where 100% of the profits from hot cocoa sales is donated to Long Way Home Adoptables to go toward their mission of saving the lives of vulnerable shelter pets. So far, Santa's Wonderland has donated over $67,000 to Long Way Home's rescue efforts. After this year, Santa's Wonderland will have donated almost $100,000 to Long Way Home, and every penny of that goes directly towards animal care.
Long Way Home Adoptables is a nonprofit organization located right here in the Brazos Valley. Their mission is to rescue shelter pets that are facing imminent euthanasia in shelters all over Texas due to being elderly, having medical issues, or being pregnant/neonates. Long Way Home is a volunteer foster-based program that gets the pets all their medical care, then adopts them out to loving forever homes all over the country, thanks to their corporate charity partners at Delta, Southwest, and American Airlines. In essence, Long Way Home specializes in saving the most vulnerable shelter pets, and giving them a second chance at life.
"NOTHING compares to that moment where we get all of the pet's medical care done and we see them in the arms of their new forever families. Absolutely nothing is better than that," shares April Plemons, founder and director of Long Way Home Adoptables. April is referring to the joy she's seen from sheltered animals being placed into new, loving homes, which could not be possible without gracious donations and fundraisers like Cocoa for a Cause. April has seen such delight come from the fundraiser in year's past. "In addition to Santa's Wonderland making it possible for us to be able to save the most vulnerable shelter pets from euthanasia in our shelters, what's joyful is seeing the happy endings that come from it. Of course, it feels wonderful to be able to walk into a shelter and save a life that has no other chance of making it out of there, due to age or medical issues," April says, but nothing is better than seeing them go to a new home.
On the night of Cocoa for a Cause, Long Way Home sets up tables with some of their available pets so the community gets to see some of the lives saved from shelters, and you can apply to adopt them! "We get to talk to them about what "fostering" means, and how the local community can help be a part of our mission to save lives," April adds. While you're strolling through Santa's Wonderland and playing with the sweet pets from Long Way Home, you can purchase a cup of hot cocoa (or two) that benefits Long Way Home. "We are all crossing fingers and paws hoping for a cold front!" April says, so people will be in the mood for a warm cup of hot cocoa.
If simply attending Cocoa for a Cause won't be enough for you to get your fix of sweet dogs and sweet drinks, you're in luck—Long Way Home still needs volunteers for the event! You can volunteer for two hours, walking dogs, passing out flyers, and manning the tables, and then you get to enjoy the rest of the night at Santa's Wonderland for free! To volunteer for Cocoa for a Cause, send Long Way Home a message or sign up directly on their website.
Santa's Wonderland will be open until December 30. They operate every evening, including major holidays. Hours of operation vary, so check their website for specific times. Don't pass up a chance for some good old fashioned holiday fun at Santa's Wonderland while also benefiting Long Way Home so that even more pets will have a warm and cozy Christmas tree to curl up under at home this holiday season!
Sources:
Interview with April Plemons, Founder & Director of Long Way Home Adoptables