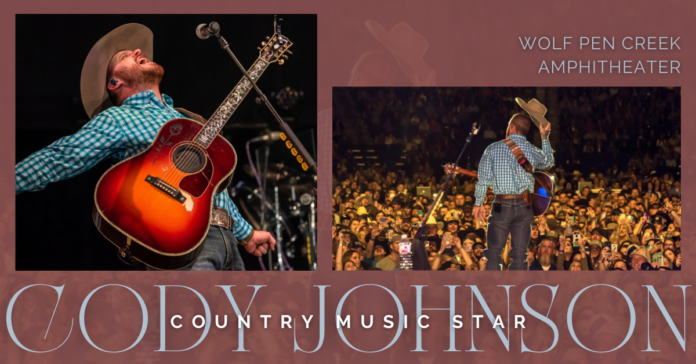 Country music fans simply can't miss Aug. 28's unique combination of ambiance and artistry. At 7 p.m., country music star Cody Johnson will perform live at College Station's own Wolf Pen Creek Amphitheater!
The numbers speak for themselves–while still unsigned, Johnson released two albums that reached Top 10 Billboard's country albums charts and broke the records for an unsigned artist by selling 74,000 tickets for one show at Rodeo Houston. He became one of Texas' most coveted artists before finally signing with Warner Music Nashville.
While he began writing most of his songs, he has since performed songs written by several major writers, including Chris Stapleton, Radney Foster and Brothers Osborne guitarist John Osborne. His songs are unified by Johnson's personality–from the rodeo to family to his faith, Johnson's life shines through his music, incorporating his relatable experiences and traditional 90's sound into something new for a modern audience.
"I don't sing nothing if you can't see my soul," Johnson says. "It's a weird thing to want to show your soul to people and still want privacy in your life."
The last tickets are selling from $53. Grab a few before the seats are filled, and see Johnson for yourself this Saturday!