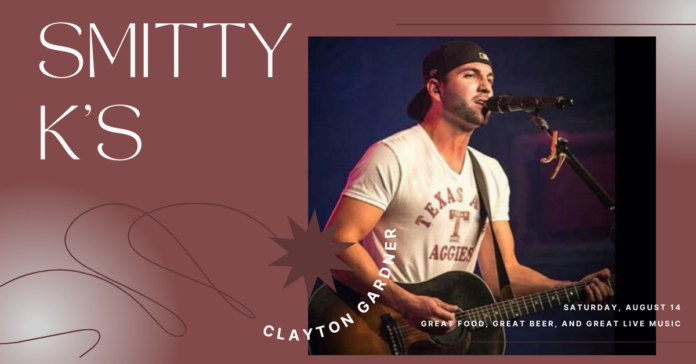 Smitty K's has become one of the most popular sports bars in town by doing three things right: great food, great beer, and great live music. With so much country music talent in the region, it's no wonder that Smitty K's is able to host multiple concerts a month. This month, they have four performances scheduled, including local country music artist Clayton Gardner on August 14.
Despite being a fan of the country genre since his youth, Gardner didn't start playing music until he got to Texas A&M. Even with the late start, he quickly made a name for himself, writing and performing with the likes of Cody Johnson, Casey Donahew, and Pat Green.
His music draws inspiration from legends like George Strait and Keith Whitley, but is still driven by his own unique style. Gardner's 2015 album "Under the Lights" is his biggest success to date with the hit song "Buy You a Drink" amassing over two million combined streams on Spotify and Apple Music. These days, he performs all over the state.
The concert is scheduled for Saturday, August 14, with the music kicking off at 8 p.m. Entry is $10 at the door and is first come first serve. For those of you who want to see the performance but can't go August 14, Clayton Gardner will be returning to Smitty K's October 22.