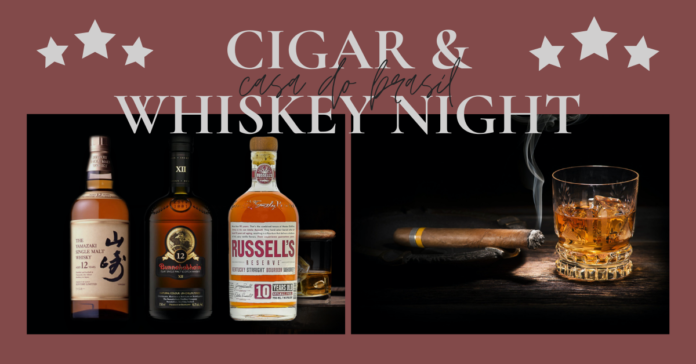 If you're looking for a fancy way to cap off the middle of the week, Brazilian restaurant Casa do Brasil, is hosting a Cigar and Whiskey Night this Wednesday, March 3. Make sure to RSVP ahead of time for the 6:00 p.m. event!
Casa do Brasil will be offering a Montecristo Espada Estoque as their cigar for the night. A super-premium cigar with a 91-point rating, the Estoque features wood and black tea notes warming into deeper complexity with caramel and cocoa. 100 percent Nicaraguan tobaccos are lovingly cured and fermented by skilled artisans, making the Estoque a sincere pleasure.
Additionally, you'll have three different options for whiskey. First of all, from the oldest Japanese single malt distillery, try the Yamazaki 12 year Old, with its fruity notes and full-bodied feel. If that doesn't interest you, you can try the Bunnahabhain 12 Year Old, an Islay Single Malt Scotch with nutty and sherry flavors. Also not to be missed is Russell's Reserve 10 Year Old Bourbon with vanilla and caramel notes alongside tobacco and oak.
The appetizers for the night will be panko-encrusted lamb "lollipops," roasted acorn squash hummus, crispy rainbow cauliflower, and mint-lemon chimichurri. If you want to make a reservation for this $65.00 event, you can do so here, or you can call them directly!