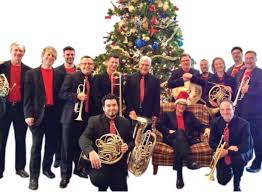 It's finally December, which means it's officially time to get into the Christmas spirit! What could be a better way than going to see a jolly-filled musical act and a classic holiday theatrical spectacle? Join OPAS for not one but TWO special Christmas performances!

December 5 at 7:30 p.m., Boston Brass & Brass All-Stars Big Band: Christmas Bells are Swingin'
For an evening full of good feeling Christmas jams, you can't do better than this concert. In the best big-band fashion, Boston Brass and Brass All-Stars will play everything from "White Christmas" to selections from The Nutcracker in a rich jazzy style that will start the season off right. According to their website, these stellar, classically trained musicians perform over 100 concerts per year and "delight audiences in an evening of great music and boisterous fun." All sorts of instruments, such as trumpets, French horns, trombones, and tubas will fill the stage in this holly jolly night by the one and only Boston Brass & Brass All-Stars Band!

Dec. 8 at 3 p.m. and 7:30 p.m., "A Christmas Carol," both in Rudder Theatre!
The signature holiday story "A Christmas Carol" by Charles Dickens will be brought to life in this meaningful musical. This classic tale will feature 26 well known jolly jingles that encompass the story of Ebenezer Scrooge, the miser who harbors not one ounce of generosity. Follow Scrooge on his time travels to the past, present, and future with the ghosts of Christmas. "A Christmas Carol" is a popular holiday tradition that shows the timeless lesson of redemption through the magic of the Christmas spirit!

Both events are family friendly and will be held in Rudder Theatre, located in the Rudder Complex on the Texas A&M University campus. Tickets can be purchased online through the MSC Box Office website or in person. Their operating hours are Monday through Thursday from 10 a.m. to 7 p.m. and Friday from 10 a.m. to 5 p.m. If you would like to purchase a wheelchair space or companion seat, they are available for purchase online, over the phone, and in person.
For more information, go to https://bit.ly/33TT79d