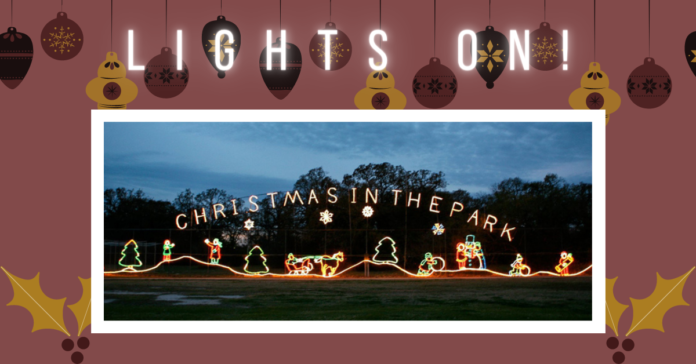 What better way to get into the holiday spirit than with thousands of sparkling lights! Enjoy Christmas in the Park at Stephen C. Beachy Central Park on Dec. 4 and 5 from 6 p.m. to 11 p.m.
The 47-acre park will be covered in lights from Nov. 27 through Jan. 1, but the Christmas in the Park event gives families a chance to celebrate in a special way. And it's all free! Wave at Santa Claus, drop off your wish list with the elves for a direct posting to the North Pole mailbox, and receive a free Christmas-themed arts and crafts bag while also enjoying to-go cookies and hot chocolate. There's even a letter to Santa template available for download. In addition, the Brazos Valley Marine Corps League-Detachment 1391 went all out, rescuing lots of "Parks Pals," stuffed animals in need of being adopted by the loving heart of a child. For free, children can choose from a variety of animals, including dogs, cats, dinosaurs, llamas, and even hedgehogs, but supplies are limited so get there early. There will also be a live, traditional nativity scene for families to enjoy. Do it all without getting out of your car!
Christmas in the Park has been a College Station tradition since 1984, where a few light fixtures have now turned into a million lights. Event planners work year round to perfect each and every light display for the holiday tradition.
Through Jan. 1, Lights On! will continue without the extra trimmings, but you'll be able to listen to Christmas music while driving through the park. Tune into channel KAGC 97.3 FM to get into the Christmas mood. The music is provided by Bryan Broadcasting and Christmas 97.3 FM.
Recreation Drive will be closed from 3 p.m. to 11 p.m. on event days, and there will be no parking available at the park. Whether you decide to enjoy the Christmas in the Park celebration or drive through the festive lights later on in the Christmas season, don't miss out on College Station's free holiday event!