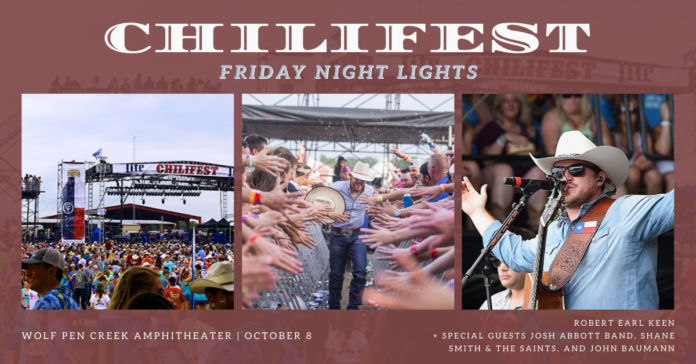 If this weekend's football festivities are like a sweet ice cream sundae, Chilifest is the cherry on top. Gather your guests and friends to prepare for a weekend making new memories. This one-night event welcomes people of all ages to enjoy a thrilling country concert the night before the big game. Wolf Pen Creek's gates open Oct. 8 at 5 p.m. for Chilifest's Friday Night Lights.
The show features Texas A&M distinguished alumni Robert Earl Keen and special guests Josh Abbott Band, Shane Smith and the Saints, and John Baumann, providing an extraordinary assortment of artists committed to having a good time.
Keen's 2021 tour "Feelin' Good Again" was ranked in the top 20 global tours by Pollstar, and returns home for this show. Keen sings of nostalgic memories, even of his time in Aggieland. His passion for storytelling and eye for narrative detail set him apart as someone who can both warm your heart and make you laugh. That and his characteristic sound are sure to sweep you off your boots.
This standalone event ends the anticipation after the Chilifest Music Festival was canceled two years in a row. Now, it paves the way for Chilifest 2022, coming in the spring. You don't want to miss this unique Friday Night Lights Chilifest event as they reopen the doors to thousands of fans for the first time in several years!
The concert starts at 6, and while walk-in tickets will be available, save some dough by purchasing tickets beforehand for $45 because the price goes up at the door.