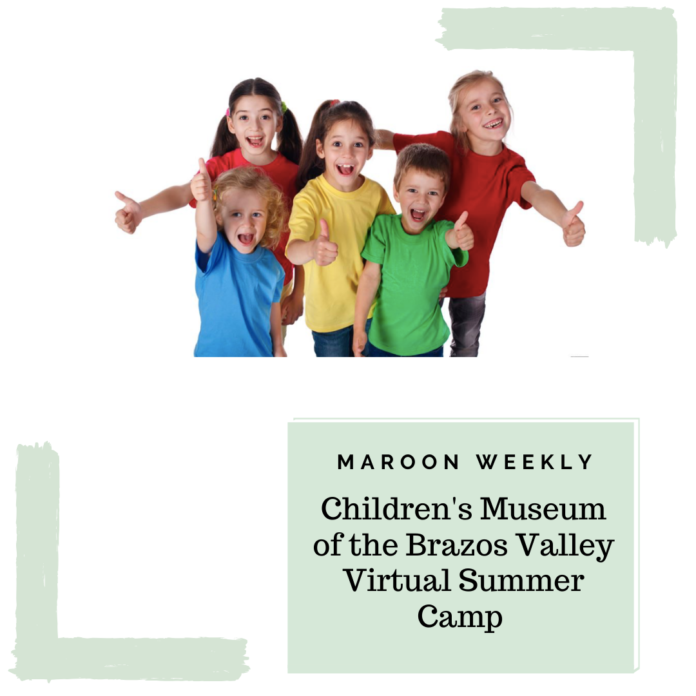 Hurrah! The Children's Museum of the Brazos Valley is opening June 1! If you're ready to get the kids out of the house, this is the perfect opportunity to enjoy the museum without crowds, as the museum will be open by appointment only for the next few weeks.
But what might be even more appealing is that they are going ahead with summer camps! The first week, June 1-5, will be virtual. After that, the camps will run weekly starting June 15-Aug. 14, offering a different theme every week. 
JUNE 1-5  For the first week, the museum has put together detailed curriculums and take-home packs so kids remain engaged and focused, while still having a blast. Kids can still participate in live interactions, work with hands-on experiments and crafts, and get to know other campers. The museum has put together detailed curriculums and take-home packs so kids will remain engaged and focused. Jena Dworkin, the museum's education director says, "Campers will be sent five different sessions that will include a fun informative lesson as well as either a craft or science experiment." She also states that the daily zoom calls will include "songs, stories, improv games, and socializing with the other campers." And if for some reason, your child can't participate on a particular day, the sessions will be recorded for later viewing. This camp is $50 for the week.
JUNE 15-Aug 14 Throughout the rest of the summer, (as long as the pandemic doesn't change restrictions again) there will be a new theme every week that focuses on different aspects of education. For example, the "Under the Sea Camp" will feature the A&M Oceanography department staff. Kids can expect to learn about various types of ocean life, some of which live in Texas. Other camps, such as "Glasses, Goo, and Geodes," will explore science experiments. These camps are sure to entertain your kids while encouraging them to learn.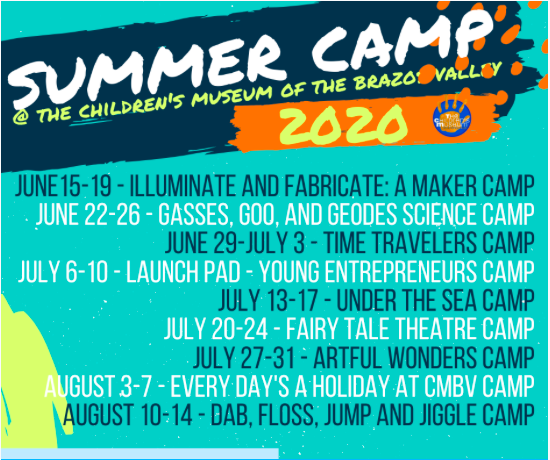 In addition to STEM science themes, arts and crafts also are a must for camp. The museum has various art themed camps such as "Fairy Tale Theater," "Artful Wonders Camp," and "Illuminate and Fabricate: A Maker Camp." "Fairy Tale Theater Camp" focuses on using creative thinking to learn the ins and outs of theatrical performance and what it takes to put on a show. Other camps such as "Artful Wonders camp" and "Illuminate and Fabricate: A Maker Camp" focus on creative thinking. Kids can expect to put together different kinds of fun activities and crafts. These camps encourage a child's imagination and out of the box thinking.
The museum welcomes children ages four and up to attend camp Monday through Friday from 9 a.m. to 3 p.m. Pre-registration is required. The camp offers a multi-camp discount as well as a $25 per week discount for additional siblings, with the standard rate for non-members being $50 a day or $200 per week, and for Standing Ovation members, $150. Early Drop Off and Late Pickup is also available for a fee.
Give your kids a fantastic summer with The Children's Museum! For more info and to register, go to https://bit.ly/3evlCiD.
SOURCES: https://www.facebook.com/ChildrensMuseumoftheBrazosValley/