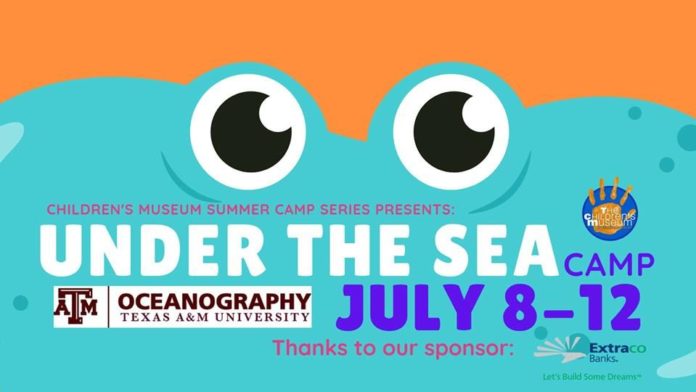 Has your little landlubber been feeling high and dry this June? Well, July gives them the chance to take a plunge and satisfy your little explorer's curiosity with the "Under the Sea" camp!
Starting July 8, the Children's Museum of the Brazos Valley will be hosting its second annual "Under the Sea" camp and will have your child diving deep into learning about oceans and marine life. And who better to teach them than the experts? This year, the museum once again welcomes the Oceanography Department at TAMU to show your little sailor the ropes. 
The idea all came together thanks to the mind of Chrissy Weiderwohl of the Department of Oceanography at Texas A&M. Weiderwohl was inspired to break away from all the engineering camps offered in BCS and instead give her young daughter the opportunity to experience a one of a kind oceanography camp.
"We are very excited that the Children's Museum was interested in working with us again this year," Weiderwohl says. "It's a great way for us to show kids interested in scientific careers that Oceanography is an option for them. Some kids have never been to the coast, so they may not have thought about it as an option."
Weiderwohl explains that the camp will provide all kinds of fun, with hands-on oceanographic activities every day led by TAMU Oceanography faculty and grad students. Your little diver will explore the depths with experiments on ocean density and ocean acidification, take a peek at ocean sediments with the International Ocean Discovery Program, and learn about the tiny microbes and all kinds of ocean organisms that live in the ocean with Texas Sea Grant!
"Ultimately we would like the children of BCS to have a greater understanding of the ocean and its importance and impact to them since we are not a coastal community," Weiderwohl says. "It also gives them exposure to the science that we do and maybe they will one day become oceanographers."
The "Under the Sea" camp is available for kids age 4 and up, and will begin at 9 a.m. and end at 3 p.m. from Monday, July 8 to Friday, July 12. Busy manning your own ship at work? For an additional fee, early drop-off will begin at 8:00 a.m. and late pick-up will end at 5:30 p.m.
The Children's Museum summer camps cost $150 a week for Standing Ovation Level CMBV Members, $200 for Clapping Hands members and non-members, and offers a daily rate of $50 per day.
Only pre-registration is accepted, and this camp sold out quickly last summer, so sign up your child before it's too late! For more information and to register for the camp, you can call 979-779-5437 or visit https://bit.ly/2ZvovYU.