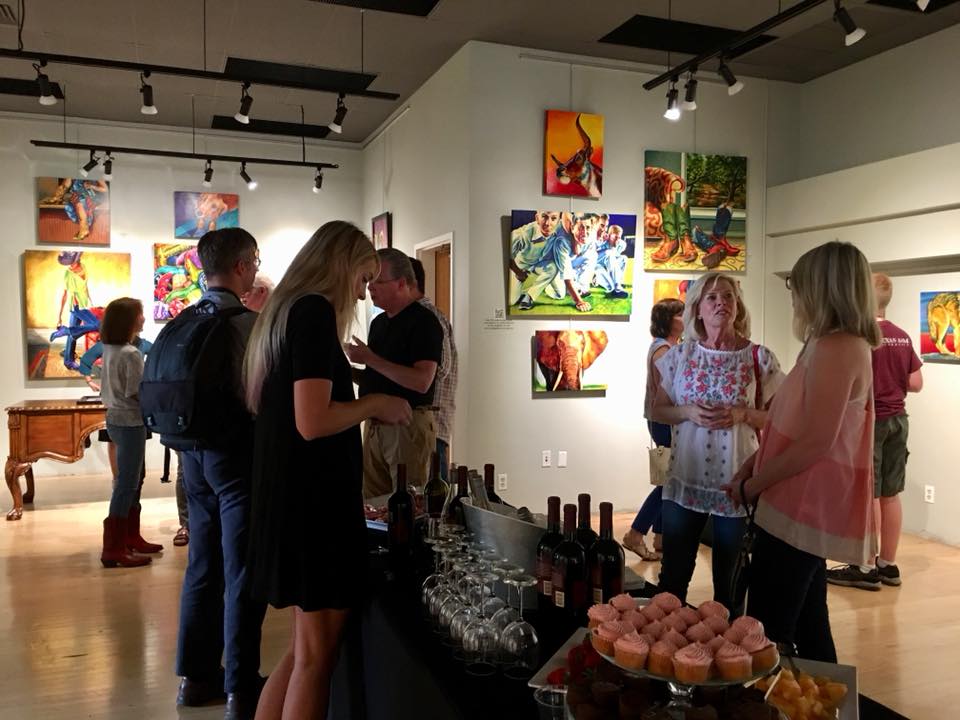 One only has to glance at the vibrant and energetic artwork of Jill and Robert "Bob" Pankey to be struck by their ability to render the simple and ordinary as whimsical and powerful. Currently on display until September 15 at the SEAD Gallery and Bookshop is their joint exhibit Charismatic Colors, a series of paintings that highlight not only the wildness found in nature and its inhabitants, but also that which is found within ourselves.
Having worked a number of artistic jobs as well as for commissions, Jill decided to pursue art full time after going back to school to study it, though she maintains that formal study was not what taught her to become a better artist. Bob, a former biochemistry professor at Texas State University, used art as both a creative outlet and a way to put himself through graduate school, though it was his wife's success in art that motivated him into pursuing it full time himself.
Jill's artwork pushes the limits of pattern and color, its subject matter conveying the majesty of the female form in ways that are not often done in the mainstream. Her paintings add a new depth to how we think of female empowerment and female issues by picking a diversity of subjects and settings that celebrate the beauty of aging and excitement of friendship. The vivacity of her choice of color is complemented by the dynamic — sometimes frenzied — movement of her subjects, creating artwork that emphasizes the passion and laughter of life.
Similarly, Robert's artwork captures an energy of a different kind as he explores the nobility and wonder of wildlife. His use of exaggerated color and brush strokes highlight qualities of nature and color that may normally go unnoticed by the human eye, such as the way the fur of a bear can be so black it looks blue, or how a bobcat's eyes seem to glitter as it crouches and crawls. His paintings highlight the emotion of his animal subjects and celebrate the power of the wild in its most inconspicuous moments as he brings even the smallest of creatures to life on canvas.
If you would like to experience the adventure their artwork can take you on, we encourage you to explore their exhibit at the SEAD Gallery and Bookshop, located at 216 W. 26thStreet in Historic Downtown Bryan. For more information on this or other upcoming Gallery events, please visit www.seadgallery.com.