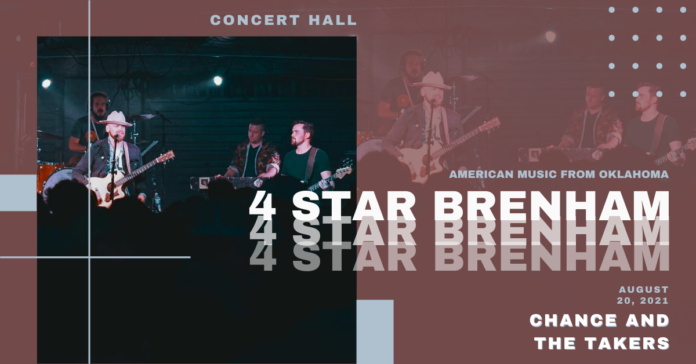 Pull out your pair of favorite boots and get scootin' down to 4 Star Concert & Dance Hall in Brenham this weekend for some beer and good music. On Friday, August 20, you can catch Chance and the Takers taking over the stage from 8-11 p.m.
With a tagline like "American Music from Oklahoma," you can pretty much guess what you'll be getting from Oklahoma native, Chance Anderson. By drawing influence from American country-rock legends like The Eagles and Bruce Springsteen, just to name a few, Chance has been able to craft a well-rounded country sound that feels, well, just like American music from Oklahoma. While these named influences have songs that could be considered classic road trip music, Chance and the Takers have gone ahead and brought the feel of the road straight to you in their latest single, "Miranda," which is now available to stream on Spotify and Apple Music.
"Miranda" has all the components of a good ol' country song—the heartfelt and swoon-worthy romance, the sentiments of a hard-working man, the oh so relatable feelings of wanting to run away and settle down with that special someone, and not to mention, a tasteful electric guitar.
Chance and the Takers seem to always be on the road, and right now, they're taking on the big state of Texas. You can purchase tickets here for $10, which get you a seat, $80 for a table of four, or you can go the No Cover route.
Immerse yourself in the sound of some feel-good country music at 4 Star Brenham. Better yet, stop by a bit early and catch happy hour from 5-7 p.m. for five dollar margs, mules and a dollar off all domestic beer bottles!