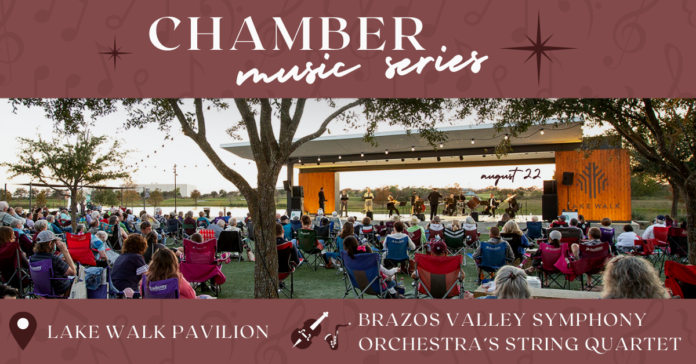 Pack up your blankets, grab a few lawn chairs, and string together some companions to enjoy the next installment of Lake Walk's Chamber Music Series when the Brazos Valley Symphony Orchestra's String Quartet performs at Lake Walk Pavilion on August 22 at 7 p.m. The Pavilion overlooks the lovely Lake Atlas, and as the sun sets and the music swirls around you, you'll be able to suspend yourself from reality and enjoy the beauty of both the setting and the music.
The program is certainly in more than capable hands, as the BVSO is celebrating its 40th year and Maestro Marcelo Bussiki has led the BVSO as artistic director for 25 of those years. This Sunday, he'll be directing the symphony's String Quartet, traditionally composed of a viola, a cello, and two violins.
The Brazos Valley Symphony Orchestra (BSVO) is not just a collection of professional musicians, it's also a non-profit organization that champions the musical arts as an important part of culture and education. Thanks to the Friends Association of the Symphony Orchestra (FASO), who has assisted BVSO in numerous ways including through hosting fundraisers, the Chamber Music Series is free to the community! Show your support by showing up and sharing on social media.
And even if you're not a classical music fanatic, there's a little something for everyone at Lake Walk. Dine-in or grab drinks to-go from The Stella Hotel's Campfire Restaurant and enjoy the music afterwards.
If you can't make it out on Sunday, don't cue that sad violin just yet, BSVO has another free concert scheduled on September 19—same place, same time, but featuring the talent of their percussionists.
For more information on tickets for BSVO's 2021-22 season, visit https://bvso.org/events/