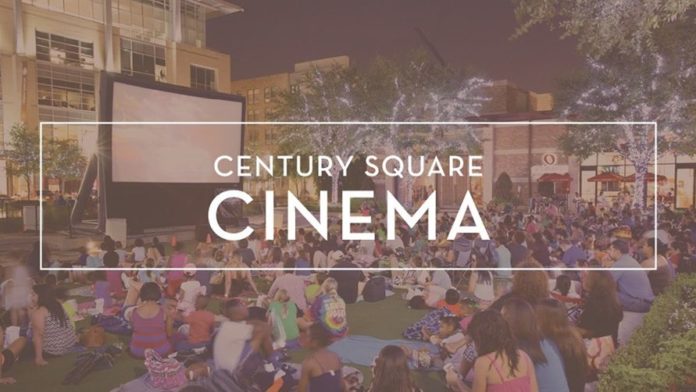 Parents that need to find a way to keep the kids entertained, look no further than the Century Square Cinema. The Summer Movie Series takes place on the third Wednesday of every month this summer, so grab a blanket and enjoy family-friendly movies on The Green at Century Square. The next feature film of the series is "Incredibles 2" on Wednesday, July 17. The third feature film will be "Space Jam" on August 21! 
Century Square Cinema is an opportunity for the whole community to have fun and make memories. Marketing Associate Amanda Tyson says, "Our ultimate hope is that Century Square Cinema fosters lasting memories with loved ones. We are all about creating an experience where people feel comfortable and enjoy each other while watching a fun movie."
All of the surrounding restaurants at Century Square will be open and have many to-go options on the menu, so your family can enjoy dinner while watching the movie. The movie will begin as soon as the sun sets, so get there early to grab your dinner and claim your spot on The Green. 
In addition to movie nights on The Green, Century Square hosts many other free events everyone can enjoy.  Century Square and The Children's Museum of Brazos Valley are partnering up to host Discovery on the Green on the third Thursday of every month from 10:00 a.m. to 11:00 a.m. These events encourage toddlers and young children to learn and grow with movement games, song and dance, and many hands-on activities. The event is free and open to anyone and everyone! The next Discovery on the Green will be on Thursday, July 18. 
If you're a coffee addict and a car enthusiast, then Coffee and Cars is the event for you! The Texas A&M Sports Car Club will be at Century Square the third Sunday of every month as a part of the Sundays at The Square series. From classic cars to exotic speedsters, auto lovers are invited to enjoy free coffee and browse the collection of cars. As part of the event, parking is free to all guests. The next Coffee and Cars will take place on Sunday, July 21 from 11:00 a.m. to 2:00 p.m.
When the kids go back to school this fall, the events at Century Square continue with Lunch Bunch and a free Stroller Strides fitness class on the last Wednesday of every month from 9:30 a.m. to 10:30 a.m. After class, hang out and enjoy a good meal at one of the restaurants at the Square!
"Century Square brings a unique walkable destination to College Station where you can dine, shop, live, hang out, stay and even work all in one place," Tyson says. Come check out all that Century Square has to offer for the whole family!
For a complete list of events at Century Square, please visit http://bit.ly/2FLrAg1.