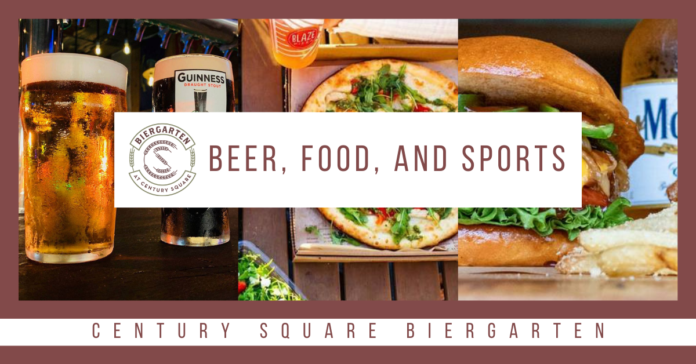 Beer, food, and sports, Oh my! If you're missing the energy and excitement of Aggieland's usual fall weekends, mark your calendars for October 9, because Century Square is hosting a pop-up biergarten from 4 to 10 p.m.
There's no better way to enjoy the cooler weather, try a new beer, watch sports, and yet still gather in a safe way! This afternoon and evening event that has it all will take place on and around The Green, situated in between Blaze Pizza and Hopdoddy Burger Bar. According to the Century Square website, food and drinks will be provided by neighboring restaurants located inside Century Square! Some of these restaurants include Hopdoddy Burger Bar, Sweet Paris, PORTERS, Mo's Irish Bar, 1791 Whiskey Bar, The Canteen, Zoes Kitchen, Piada Italian Grill and MESS Waffles. Arguably, the best part about this event is that it's free! Everyone, including children and pets, are encouraged to come out to enjoy the event.
On The Green, you'll find spaced out picnic tables, available on a first come, first served basis, and live music from Century Square's Front Porch series. Additionally, restaurant patios will be open for seating! There will also be outdoor bars, speakers, and six 50" televisions so you can relax and not miss a minute of the live sports being broadcast.
Other upcoming Century Square events to keep your eyes open for are more Front Porch and Sunday Night Live music installments!
To attend the event, masks are required and will be enforced. You will not be served without one. For more information, visit their website or Facebook page! Come out and enjoy the best drinks and bites Century Square has to offer.
Source: https://www.century-square.com/events/detail/century-square-biergarten111