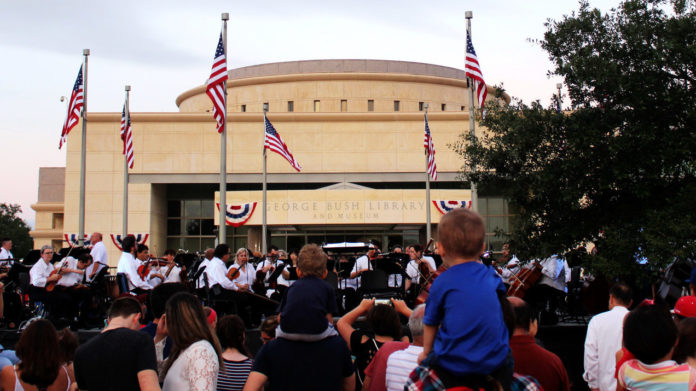 There's so much to love about the Fourth of July! Gathering with family and friends, cooking out, watching the night sky light up with dazzling fireworks. And here in BCS, we're luckier than most—there's no better place to celebrate Independence Day than at one of the nation's finest Presidential Libraries! Together with the College Station Noon Lion Club and the Brazos Valley Symphony Orchestra, the museum is bringing you another "I Love America" celebration at the George HW Bush Library and Museum. 
It's an all day affair, with the festivities beginning at 9:30 a.m. at the opening of the Library. Throughout the day, you can enjoy the food trucks, children's games and train rides and live music entertainment, all ending with a grand finale of fireworks accompanied by live symphony music by the BVSO! 
Come hungry, because all eight food trucks will open at noon. Some of your favorite food trucks will be there for guests to enjoy all day, including the 2019 Best of BCS Food Truck winner, Blake's Steaks, and runner up, The Crafty Pig, along with C&L Nuts, Best of BCS BBQ runner up, Good Bull BBQ, Krab Kingz, Kona Ice, Marco's Pizza, and Sweet Pops. The Lion's Club will be selling drinks, Slovacek Sausage, and handing out free watermelon slices beginning at 4:00 p.m.
Performing many of America's favorite patriotic musical selections, the BVSO's selections begin at 8:30 p.m. The orchestra will play all your favorites, including the "Battle Hymn of the Republic," "Stars and Stripes Forever," and more. Get there early and stake out your spot because you'll want to see the orchestra and the fireworks up close and personal. This is the perfect time for children to hear and see the symphony in a fun and exciting way where they are free to dance and sing along.
Bring your picnic blankets and lawn chairs, but leave pets and glass containers at home. Free parking will be available in the gravel parking lot at Fan Field, off of Research Parkway.
For a full schedule and more information, please visit http://bit.ly/2IU9t8K.
Visit http://bit.ly/2FHyUJV and scroll down to the bottom of the page for a map of driving directions to and from the event.