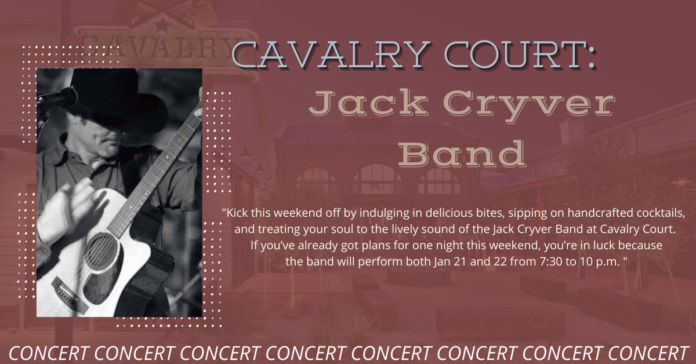 Kick this weekend off by indulging in delicious bites, sipping on handcrafted cocktails, and treating your soul to the lively sound of the Jack Cryver Band at Cavalry Court. If you've already got plans for one night this weekend, you're in luck because the band will perform both Jan 21 and 22 from 7:30 to 10 p.m.
The Jack Cryver Band got its footing in Amarillo, where they traveled between honky tonks and never failed to leave a huge impression. The band is led by Jack Cryver, who describes their sound as a combination of "outlaw country and Texas country" in a manner so toe-tappingly enjoyable, you can't help but sing along. Making their mark on Texas Country music, the group has created multiple outstanding originals, and you can find the single "Famous for My Mistakes" on all your favorite music streaming platforms.
The band is eagerly waiting to return to Cavalry Court for the second time, Cryver says, as they can always count on "meeting great people and having a good time." Experience the Jack Cryver Band performing a combination of covers and originals this weekend for a performance sure to give you a good time.
Located in the heart of Aggieland, the Cavalry Court hotel is the perfect destination stay for Aggie football, business trips, family excursions, or a couples getaway. The hotel is accompanied by The Canteen Bar and Grill, which combines the energy of one of College Station's finest bars with the quality of a local luxury grill. Weekly live music pairs exceptionally with the Canteen's outdoor gathering area, complete with cornhole, ping pong, and an ample amount of space for a dancefloor.
Both Friday and Saturday, the kitchen at the Canteen will be open until 10 while the bar will be ready for all drink necessities until 2 am. For more information on the Cavalry Court hotel, please check out their website.