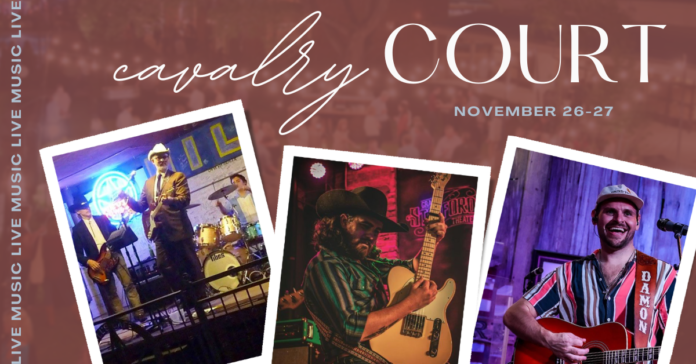 Great food and great music, can you think of anything better than that? Cavalry Court at Century Square has exactly what you are looking for. The Brian Turner Band will be performing at the Canteen Bar and Grill on Friday, Nov. 26, along with Damon Curtis, starting at 7:30 p.m., and on Saturday, Garret Snowden will also be performing with Damon Curtis at 7:30 p.m.
The Brian Turner Band is a rock and roll and country trio made up of guitarist and lead vocalist Brian Turner, bass player Jimmy Umstattd, and drummer Christian Umstattd. The band covers the music of some of rock and roll and country's greatest stars like Buddy Holly, Ricky Nelson, and Warren Smith, playing music that has lasted the test of time and will make anyone tap their feet to the beat.
Garret Snowden, a member of the local band Shadow Canyon, will be taking the stage on Saturday, playing some songs from the great country legends of the past. Whether he's playing certified hits or bonafide deep cuts, you can always bet on having a great time listening to some great music.
Damon Curtis, playing Friday and Saturday, is a country singer from Moulton, Texas, and has been cutting his teeth on the Texas music scene for good while now. His band released their first EP titled "Changing Lanes" in 2017, showing off Curtis' talent as singer and songwriter, but also giving listeners that undeniable sound of Texas country. Since releasing "Changing Lanes," he's been touring all across Texas and making music, dropping the single "Time or Two" in 2020. You can check out all of his music on streaming platforms as well as visit his website for more tour information.
All the shows will take place at the Canteen Bar and Grill inside Cavalry Court. The Canteen offers a large variety of food and drinks that will surely not disappoint, and also offers an outdoor courtyard where you can play games like cornhole and ping-pong. It really is one of the best places to unwind and enjoy a great night of music! You can check out their website to see more events as well as their menu.