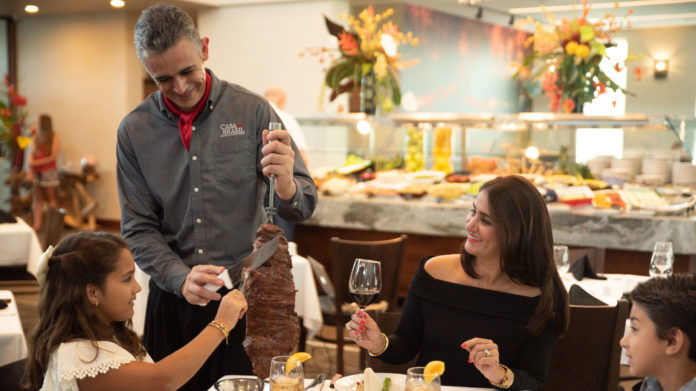 Sometimes, finding fine dining in a college town can be a struggle. Between fast food joints and 24 hour diners, even date night can make you break a sweat. Luckily here in the Bryan/College Station area, this is not an issue, especially since there's a hip new choice in town, offering spice, flavor and elegance. Casa Do Brasil in College Station offers an "authentic dining experience of the finest beef, wine, and regionally specific fare imported from the rich gaucho tradition of Southern Brazil." This translates to pan seared salmon, grilled to perfection filet mignon, smoky bacon wrapped chicken and steak and crusted parmesan pork, among many other delectables. It's okay if your mouth is already watering!

Sounds like the perfect time to take a vacation to Brazil—er, for a couple hours at least. With Casa Do Brasil's top of the line cuts of meats and unique spices, a meal here is sure to convince your taste buds you're not in Texas anymore.

Thirsty? Don't forget to join them for Happy Hour and enjoy a selection of signature Brazilian cocktails, wines and beers from 4:30-7 p.m. Monday-Thursday, 4:30-10 p.m. Friday, 4:00-10 p.m. Saturday, and 4:30-7 p.m. Sunday. This is one Happy Hour you won't want to miss, as the cocktails and appetizers are unique flavor trips to the southern continent, from the Pineapple Mojitos to the Brazilian Cosmo Martini with mango vodka, to the crispy polenta fries and flaky pastry empanadas stuffed with chipotle chicken or picanha beef.

Not sure where to plan the next date night, office afterparty, a celebration, or just a night out? Casa Do Brasil stands out not only for its dines and wines, but for live music in their bar and enclosed patio. Every Wednesday through September 25, you can enjoy listening to different genres of music—from jazz to modern—performed by talented local musicians and starting at 6 p.m. Want to have an idea of what kind of tunes you're in for? Johnny and Lise, a talented duo, sing the American Classics, modern hits, and everything in between on Aug. 28. Can't make it on Wednesday? Casa Do Brasil features live music starting at 5:30 p.m. Saturdays, with Johnny and Lise also joining them on Aug. 31.

So for your next above the usual meal, make it Casa Do Brasil, located at 1665 Greens Prairie Rd W, College Station, TX 77845.
For more information, visit https://casadobrasil.com/