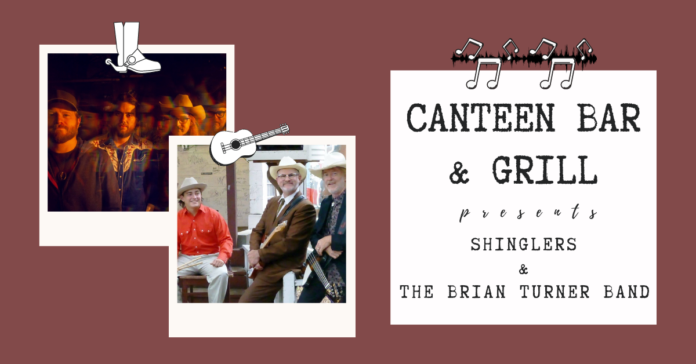 You might not think of Century Square's Calvary Court right off the bat when you're thinking of weekend entertainment options, but if you're looking to enjoy a nice refreshing drink and chow down on some yummy food while you let the sounds of live music fill your ears, the Canteen Bar and Grill at Calvary Court has got you! With the Shinglers taking center stage Friday, Jan 22 at 9:30 p.m. and The Brian Turner Band on Saturday, Jan 23 at 7:30 p.m., The Canteen is sure to fulfill all your weekend's needs!
The Shinglers started by chance when Jeremy Brandelik and Colton Cerny came together in West Texas through their common love for old school country and cosmic Americana music. After heading down south to Austin, the duo grew into a four man band and added Kyle Harris and Keith Young. Over the years, the band has combined their country influences and southern roots to write songs. When they take the stage this weekend, the Shinglers will be performing both covers and originals, as well as new songs from their first LP, "Cosmic Range Oven," set to drop early spring 2021.
On Saturday night, The Brian Turner Band will be taking the stage. Members Brian Turner and Jimmy Umstattd joined forces 20 years ago to the month and welcomed Umstattd's son, Christian Umstattd eight years later. Originally playing more traditional country music, the 3-piece rockabilly band, as they describe themselves, will be performing high energy, dance/swing songs from musical legends such as Buddy Holly, Carl Perkins, Gene Vincent, Johnny Cash and more that will have you singing along and dancing in your seat to the beat!
Along with live music, The Canteen's courtyard will also be complete with socially distant tables, ping-pong tables, washers, and corn hole. So if you don't have any plans, come early and stay late! And before you leave the house, don't forget to grab your mask and your best pair of dancing shoes!