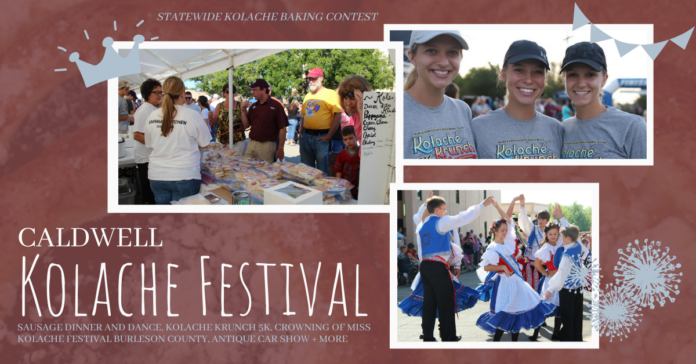 If you love great pastry, sausage and music, come on out to the 37th annual Caldwell Kolache Festival on Friday, Sept. 10 through Saturday, Sept. 11. Located in Caldwell's downtown square, the festival attracts over 30,000 visitors, all planning to devour the tens of thousands of locally made kolaches.
A kolache is a delectable, puffy dough pastry filled with jam or fruit that originated in Czechia and is especially popular in Texas. The festival pays homage to Caldwell and the surrounding area's prevalent Czech heritage, even being dubbed the "Texas Czech Belt." Of course there'll be more kolaches available than you can fathom, Czech bands playing polkas, folks wearing regional costumes, a quilt show and a kolache eating contest taking place for those who think they have what it takes to win.
On Friday, Sept. 10, kicks things off with a pre-festival sausage dinner and dance at the Burleson County Expo, which is a great way to get in the festival spirit. You do need to purchase your tickets in advance by stopping by the Burleson County Chamber of Commerce.
Then on Saturday, Sept. 11, start your day of overindulging in kolaches by running in the Kolache Krunch 5k. The $35 entry fee goes to supporting Texas A&M students through scholarships. At 9 a.m. on the Downtown Stage you can witness the festival's official kick off with ceremonial flair and the crowning of Miss Kolache Festival Burleson County. As the day continues, car enthusiasts will be pleased to hear there's an antique car show, the kids can enjoy the numerous kid rides and activities, and of course in the afternoon, the winner of the Statewide Kolache Baking Contest will be revealed.
Come on out to Caldwell and try some of the best kolaches you'll ever taste, dance a few polkas and immerse yourself in Czech culture for the day!