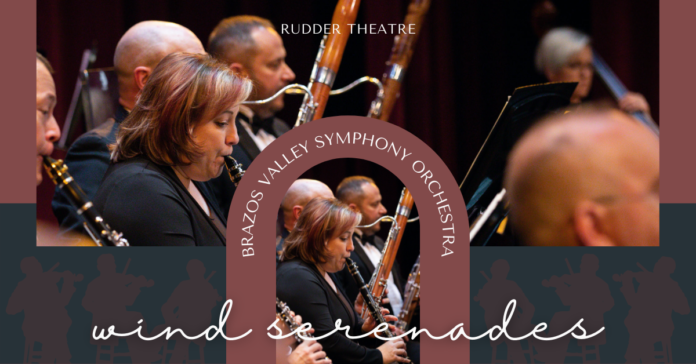 Inside the familiar Rudder Theatre, travel through time when you tune your ear to the Brazos Valley Symphony Orchestra wind section's upcoming live performance, "Wind Serenades." Sunday, Nov. 14, at 5 p.m, the section stands alone to perform pieces ranging from the classical era to the romantic era.
The program includes three compositions written to highlight flutes, oboes, clarinets, bassoons and French horns, setting the stage for dynamic twists in tone throughout the evening.
Maestro Marcelo Bussiki conducts the section in their selected works: Wolfgang Amadeus Mozart's Serenade No. 10 in B-flat major, K. 361 "Gran Partita," Anton Dvořák's Serenade for Wind Instruments, Op. 44, and Richard Strauss' Serenade for Wind Instruments in E-flat major, Op. 7. Dvořák and Strauss composed their serenades almost exactly 100 years after Mozart's, allowing the audience a chance to hear how music changed over such a significant time span and yet also compare how well the pieces fit together.
Ticket prices vary by age: $30 for college students, $55 for adults and $20 for those in high school or younger.