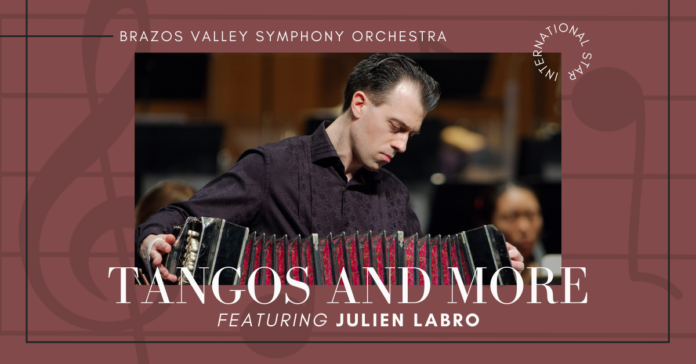 Bryan hosts an international star on Sunday, May 16, when Brazos Valley Symphony Orchestra (BVSO) features Julien Labro on bandoneón. From France to New York and now briefly BCS, you have the chance to hear Labro live, paired with Bryan's own professional orchestra.
Labro's brilliant skill and creativity have established him as one of the leading accordion and bandoneón classical and jazz players in the world. He graduated from Marseille Conservatory in France and won first place in several international accordion competitions before moving to the U.S.
Known as "a triple threat: brilliant technician, poetic melodist and cunning arranger," Labro's resonant style and passion for classical music translate into electrifying performances. Sunday's event "Tangos and More" will feature music from Respighi's Ancient Airs and Dances Suites I and III and Piazzolla's Five Tango Sensations and "Adiós Nonino."
The performance starts at 5 p.m. at First Baptist Bryan with limited in-person seating available. You can get tickets here at $45 for adults and $16 for students, but hurry, because tickets are going fast! If you cannot attend in person, the event will be live streamed, with access for just $35. Music lovers will not want to miss this pairing of the international icon and BCS's thrilling symphony orchestra.