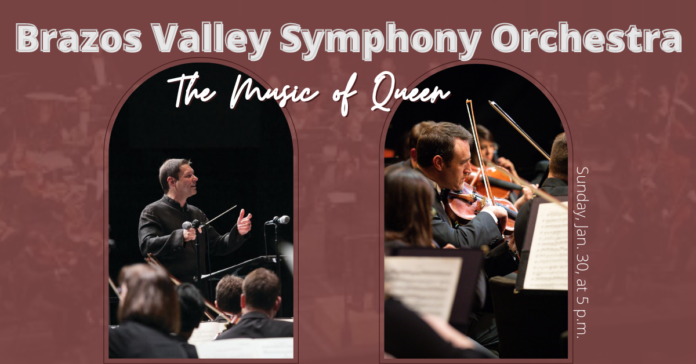 Imagine you're at a Queen concert in the 70s. The audience, hypnotized by the fusion of Freddie Mercury's vocals and heavy metal guitar orchestrations, begins the iconic stomp stomp clap, stomp stomp clap of "We Will Rock You." The overwhelming electricity of the moment, loud screaming and powerful music leave you wanting to live in this moment forever!
Relive Queen's most celebrated classics such as "Bohemian Rhapsody," "Killer Queen," "We Are the Champions," and so many more as the Brazos Valley Symphony Orchestra (BVSO) puts on their first concert of 2022, Sunday, Jan. 30, at 5 p.m. in Rudder Auditorium. The BVSO, amplified by a full rock band, will perform all your favorite hits at this concert, bringing you a night full of iconic rock history as they carry you down memory lane.
Bringing intricate classical music to the BCS area for more than 40 years, the Brazos Valley Symphony Orchestra is committed to maintaining high artistic standards. The community-based orchestra includes members of all ages from the BCS area.
Tickets can be found online through the MSC Box Office and the prices range depending on seat location. For more information on the Brazos Valley Symphony Orchestra and their tribute to The Music of Queen, check out their website.