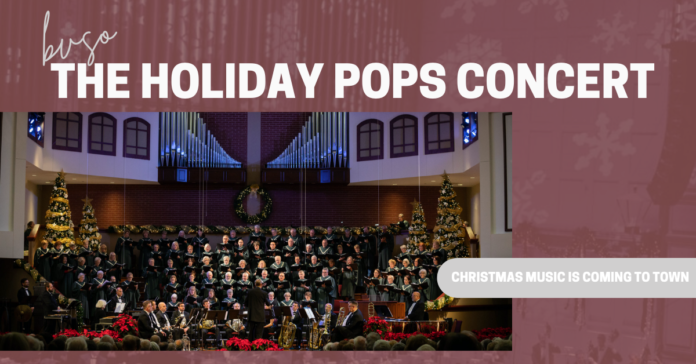 Hold on to your Santa hats and brace yourself for some holiday cheer, because Christmas music is coming to town!
The Brazos Valley Symphony Orchestra's The Holiday Pops Concert will bring your holiday favorites to Christ United Methodist Church on Sunday, Dec. 12, at 5 p.m. Between choirs, bells, brass, percussion and an organ, the concert brings on the holiday charm that's as festive as music gets.
This event features a variety of groups and sounds to keep you on your mistle-toes. First, there's the Brazos Valley Symphony brass and percussion joined by James Faith on organ. The grand sounds are sure to conjure the warmest, coziest feelings that come with the holidays.
Then there's the caroling choir and ringing bells, which are a must for holiday festivities. This includes the Christ United Methodist Church Sanctuary Choir and their Canticle Ringers with Music Director James Faith and the College Station High School Varsity Women's Choir with their Music Director Kearby Etheridge.
You can get your tickets online through the MSC Box Office. Tickets cost $40 for adults, $30 for students and $20 for children.
Between the choirs, BVSO and bells, you'll be energized to sprint toward the holidays after this joyful event!