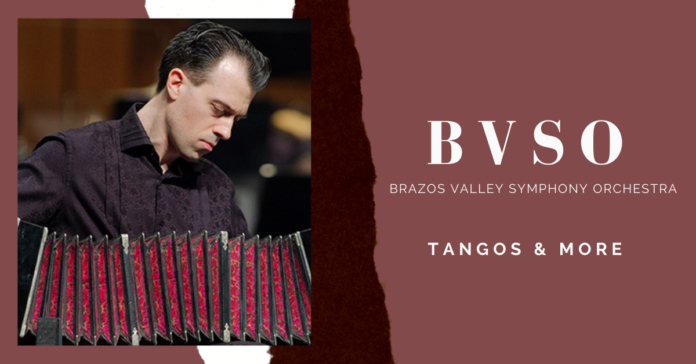 It's the New Year, which means the Brazos Valley Symphony Orchestra is kicking off a new season of music with some very exciting numbers at Tangos & More on January 24. The night will feature Julien Labro, a French-born bandoneón artist, who will complement the show with a special solo performance.
"This will be the first time in 10 months that we come together as a larger group. The level of anticipation in the Brazos Valley Symphony is palpable, says Maestro Marcelo Bussiki, the director and conductor of the BVSO. "I think I speak for every musician in our orchestra: we are eager to go back to doing what we love."
Labro, an award winning bandoneón artist, combines his technical, melodic, and arrangement skills together to create a trifecta of musical artistry. "I am looking forward to making music with our soloist, Mr. Labro," says Maestro Bussiki. "He is, in my opinion, one of the best, most versatile bandoneon players in the world. One that has a mesmerizing technique yet with a lyricism and emotional content that few can achieve." Labro and the BVSO will perform Copland's Three Latin-American Sketches, Piazolla's Five Tango Sensations and Adiós Nonino, and an electrifying suite from Shostakovich.
Join Maestro Bussiki, along with the BVSO's professional orchestra to commemorate another season of magical compositions and exceptional live music experiences. "This concert will be a treat," adds Maestro Bussiki. "Very rarely do symphonies perform this repertoire, and I am excited to share with our patrons a music that is deeply touching to me."
To make sure you're up to date with the BVSO's all-new symphony schedule, download their printable season flyer and order form here so you won't miss a thing. It's complete with all the details on the upcoming shows and pricing, making ticket purchases even easier!
Tangos & More will be held on Jan. 24, 2021 from 5 to 7 p.m. at the Brazos County Expo in Bryan, Texas. Face coverings will be required. You can purchase tickets here for $45 per adult, $16 per student, and $35 for the "via video" option, which allows you to watch the professionally produced video of the concert at home within a week.
Sources: