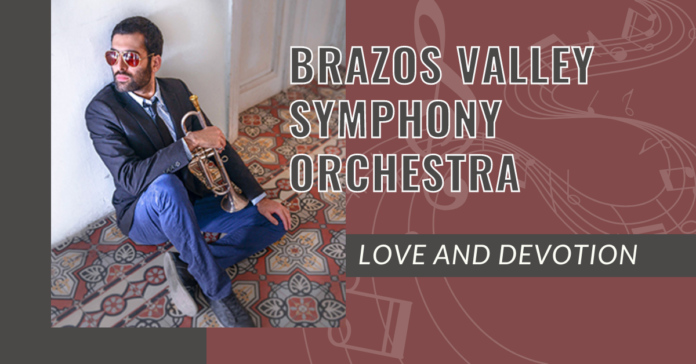 In need of a romantic summer date idea? Combining jazz with symphonic music, Brazos Valley Symphony Orchestra's June 13 performance, "Love & Devotion," should be just the ticket.
Headlining the event is Itamar Borochov, an Israeli trumpeter with an impressive reputation in the New York jazz scene. Growing up, he was influenced by American jazz artists like Louis Armstrong and Miles Davis, and in 2007, he moved to New York to study music at the New School. Borochov will also be joined by the Itamar Borochov Quartet and pianist Rob Clearfield.
The performance will feature the first live performance of "All You Shining Stars," a contemporary classical piece from Shanan Estreicher composed specifically for Borochov, as well as three selections for jazz quartet. Borochov will be joined by BVSO for the performance of "Emergence," composed by Borochov himself and commissioned for this concert. BVSO's director Marcelo Bussiki, who has been with the symphony since 1996, is set to conduct the orchestra.
The concert starts at 5 p.m. in A&M's Rudder Auditorium, and face coverings are required. Tickets, which can be purchased from MSC box office, start at $45 for adults and $16 for students.
Sources: https://bvso.org/event/love-devotion/
https://www.itamarborochov.com/
https://boxoffice.tamu.edu/online/default.asp?doWork::WScontent::loadArticle=Load&BOparam::WScontent::loadArticle::article_id=8C3D300E-E6B8-4952-9B39-27A91F9CCDC1&BOparam::WScontent::loadArticle::context_id=4A2A27E9-79D3-4C3B-99BE-442E3F136E5B