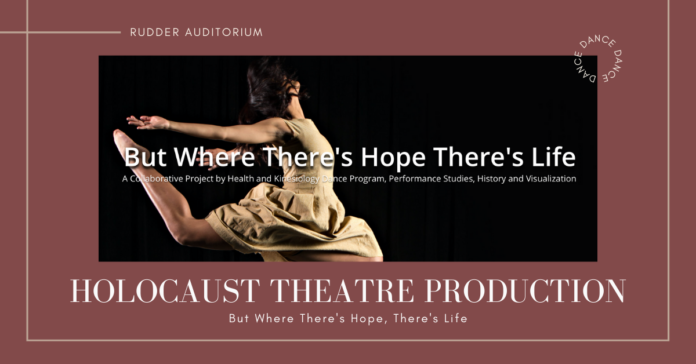 The Texas A&M Health and Kinesiology Dance Program, Performance Studies, and History and Visualization Department have again collaborated to bring the next stage of their project, "But Where There's Hope, There's Life," to Rudder Auditorium. An expressive dance theatre production, the project focuses on the Holocaust and expresses the impact of this event on history. The stage performance of "But Where There's Hope, There's Life" will take place on March 13 at 5 p.m. in Rudder Auditorium.
This project came to fruition in three different phases. Phase one of "But Where There's Hope, There's Life" took place last fall, where sequences of four days of performances with multiple performances each evening were given in the historical district of Downtown Bryan. Audience members were guided from one location to the next while listening to audio recordings by TAMU Performance Studies that gave historical background information on the Holocaust era. Phase two is the stage performance on March 13 at Rudder Auditorium, where the full nine-section work will be expressed through live dance performances. The third phase's goal is to educate middle and high school students about the Holocaust by including lesson plans teachers can use before and after viewing either a live performance or recorded version of the show.
The work comes at a critical time in our nation when conversations on immigration, human rights, and civility are taking place in every arena. The makers of "But Where There's Hope, There's Life" are hoping to impact the community and educate them on the story of the Holocaust, providing a reminder of previous lessons learned about where hate can lead us. The evening-length work incorporates multiple audio and visual elements from the Departments of Visualization and Performance Studies.
Tickets are on sale for $7 for students and $10 for general admission through the MSC Box Office's website. Virtual tickets are available as well. Tickets can also be purchased over the phone by calling the MSC Box Office at 979-845-1234, or by stopping by in-person at the MSC Box Office windows. If you would like to attend with a group (maximum of six), please purchase tickets all at the same time to ensure you're seated together. Tickets are presale only.
To learn more about "But Where There's Hope, There's Life," take a look at their website.
Sources: