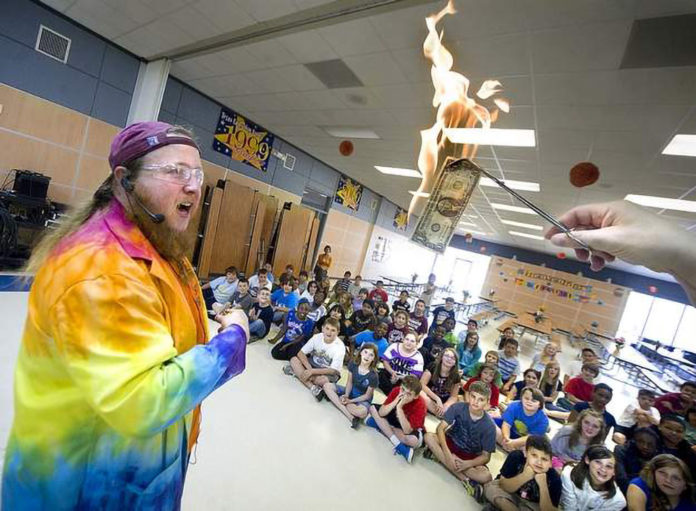 Remember the pure, unbridled joy you first felt as a child when you saw your science teacher creating chemical wonders out of his bubbling beakers and colorful test tubes? It's a shame that excitement often fades as we get older and science becomes more intimidating, but this joy is something that Dr. Jim Pennington and the Texas A&M University Chemistry Road Show is attempting to keep alive. If you know any students from grades 3–12 that might be interested in having their interest sparked by the wonders of chemistry, make it a point to stop by the Bush Library on the morning of October 24!

The Chemistry Road Show, currently hosted by Texas A&M chemistry professor Dr. Jim Pennington sporting his classic tie-dye lab coat, promises to delight and educate. They will be able to "see a reaction that changes color from clear to brown to purple and then clear again, in a repeating cycle, a genie that emerges from a bottle, iron that burns as brightly as the sun, and a pinch of dry powder that instantly solidifies a cup full of water." Pennington will also give a presentation on the extreme importance of chemistry to the field of medical research.

The Chemistry Road Show was founded by late Texas A&M chemistry professor Dr. John Hogg over thirty years ago as a public service program that, according to the Texas A&M Chemistry Department, had two connected goals: "to entertain and educate students using chemistry." Since then, it has stretched the minds of thousands of students each year by introducing them to scientific wonders, showing them that "chemicals and chemistry are not only vital to our lives, but also can be fascinating and fun."

Hosted at the Bush Library, the Chemistry Road Show is a part of their Storytelling Program, which, according to their website, exists to offer free presentations as an outreach opportunity so that they can provide a "beneficial learning experiences for all ages." This event is important to the former president's legacy because both President and Mrs. Bush were lifelong champions of education, and on top of that, they "supported and encouraged medical research involving chemistry to find cures for cancer." The Chemistry Road Show, then, is a perfect fit for the ideals the library holds dear.

The Chemistry Road Show by Dr. Jim Pennington is for grades 3–12 and will have two showings Oct 24 at the Bush Library, one from 10:30–11:30 a.m. and the other from 12:30–1:30 p.m. Entrance to the event, as with all of the Bush Library's storytelling events, is free.
For more information, and to R.S.V.P., visit http://bit.ly/2nZWaNx