Summer is a time of leisure and relaxation. Whether you prefer hardcovers or audio books, reading can be a great way to pass the time and keep your mind occupied during long summer months. To help with this, the Bush Library is launching two podcasts that will officially start airing online on June 30. Appropriately named "Mrs. Bush's Storytime" and "All the Best," these podcasts are perfect to listen to on hot summer days for surefire entertainment.
Mrs. Bush's Storytime is a re-airing of a show of the same name that ran from 1990 to 1994, during Mrs. Bush's time as First Lady, featuring Mrs. Bush reading classic children's stories. The new show, however, will only feature her readings, and will be hosted by her daughter, Doro Bush Koch. The podcasts will have special guests that most Americans will recognize, including Elmo and Winnie the Pooh, along with celebrities such as Oprah Winfrey. The podcast will also feature former First Lady Laura Bush and her tips on reading, and she will be joined by bestselling authors sharing reading memories from their own childhoods.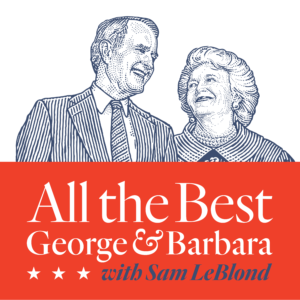 The second podcast might be even more exciting than the first. The podcast will be called "All the Best," and will be hosted by a grandson of the Bushes, Sam LeBlond. This podcast will include friends and members of the Bush family. The podcast will also invite people who have worked with the Bushes. This weekly podcast provides insight into the minds of both George and Barbara Bush and their focus on serving others, gleaned from conversations held with those who knew them best: family, associates, and a variety of others such as country music star Reba McEntire and one of Mrs. Bush's White House aides, Ann Brock.
The podcasts will not be fully available until June 30, but the Bush Library has provided transcripts of the podcasts and some of the episodes online through a link on the library website. This serves as a great preview of what is to come, and will surely pique the interest of potential listeners. "All the Best" is not a re-airing of a previous podcast, and new exciting episodes will be released once a week.
The Bush Library itself is still not open to the public due to COVID-19, but those who wish to tour the building can do so virtually on the library's website. No matter how old you are, there is something for everyone to enjoy through these podcasts. With an outstanding lineup, there's sure to be an episode for you! Visit https://bit.ly/3dckDTk for more info.
Sources : https://bit.ly/bushpodcasts ; https://bit.ly/allthebestpodcast