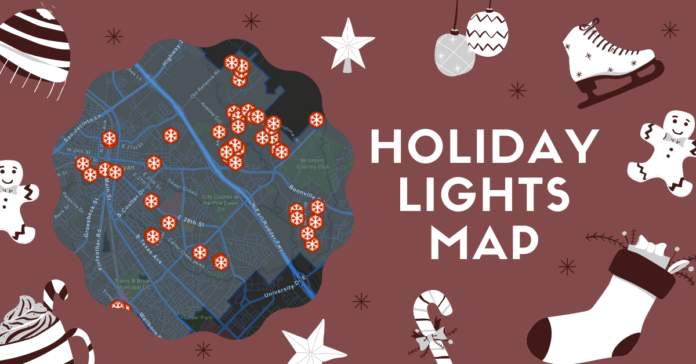 If you're wondering how to pull a Christmas rabbit out of a hat and find one more way of making this holiday special without the usual events we rely on, make sure you pile the gang in the car to take in the lights. Socially distanced? Check. Fun for the whole family? Check. Full of holiday spirit? Double check. And no mask required!
But where to go? Instead of just driving around town, check out the new Bryan Holiday Lights Map from the City of Bryan and their partners, Destination Bryan. You'll be able to access it from your phone for easy navigation straight to the best light displays all over Bryan.
Kristen Waggener, City of Bryan Communications and Marketing Director, says,"It has listings of homes and businesses that have holiday light displays in Bryan. We partnered with Destination Bryan and Wendy Flynn/Best Lights of the Brazos to make sure that all the best displays in Bryan are listed."
All over town, from the lights at Lake Walk to individual residences to shop windows in the Downtown Bryan area, neighbors, friends, and business owners have put their hearts into making special displays for our community. You'll be amazed at local creativity and inspired by the wonder of the season! Waggener says, "We created the map to help show off the holiday spirit in Bryan in a fun and safe way, so that families could enjoy the light displays in various neighborhoods in our community."
What better way to enjoy your family and also find an extra dose of holiday spirit? Follow this link to the map, or as Waggener says, "People can go to BryanTX.gov/HolidayLights and see the map."
Happy Holidays!