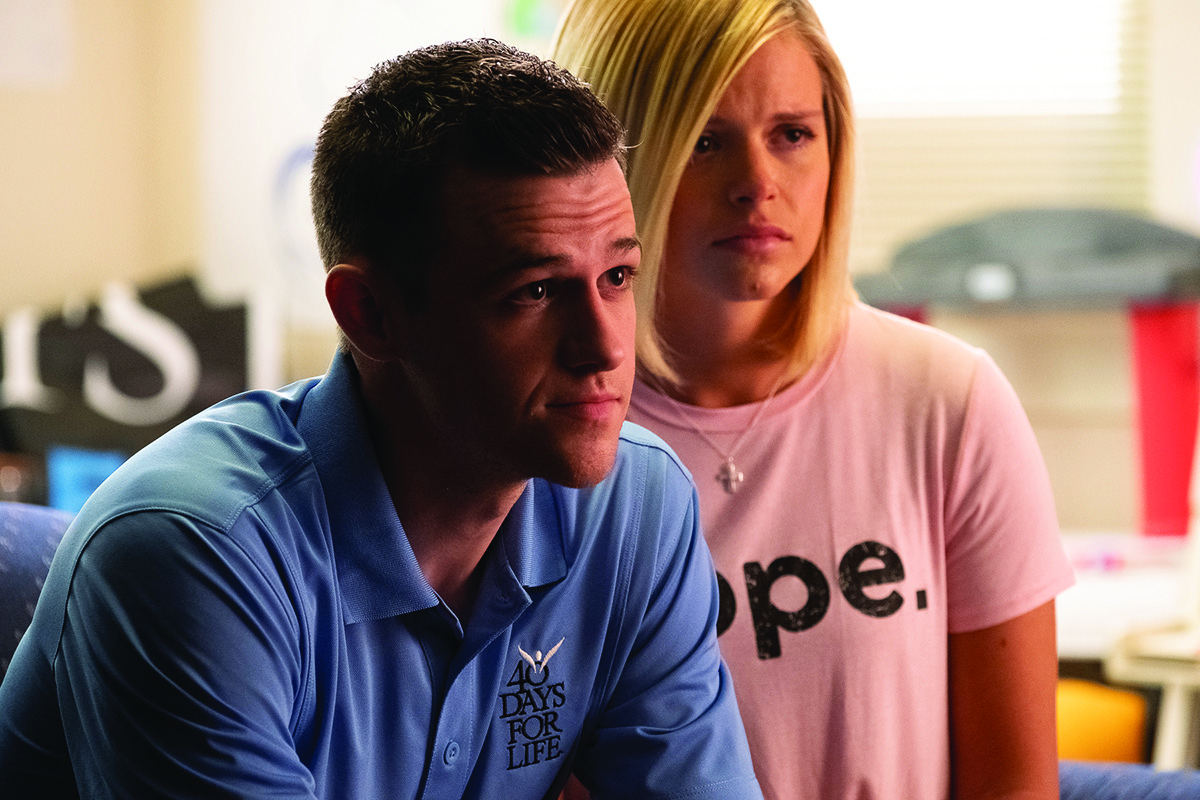 This weekend the film "Unplanned" will debut on nine screens in BCS, the first Hollywood feature about events in Aggieland to release since the The Junction Boys in 2002. It's no small deal when your community takes the national spotlight in a Hollywood film release, but this particular film, portraying Abby Johnson's journey from Planned Parenthood employee of the year to pro-life advocate, is likely to draw some extra attention. To learn more about "Unplanned" ahead of the release this weekend, Maroon Weekly contributor Joan Quintana interviewed Shawn Carney '05, who is portrayed in the film by Jared Lotz. Shawn figured prominently in Abby's story and offers a unique perspective on the film.
Joan Quintana: This weekend, the movie "Unplanned" will release on 1200 screens nationwide and on nine screens here in town. What's your connection to the film?
Shawn Carney: My wife and I are both portrayed in the movie, because we went to A&M and would go out and peacefully pray outside a place there, an abortion facility in Bryan. And Abby started volunteering for Planned Parenthood around the same time. And then we both started working for opposing organizations. Abby and I were directors of opposing organizations at the same time, often in media interviews, The Eagle, KBTX…against one another. And one day when they were short handed, (Abby) witnessed an abortion. At the time, our office was next door to Planned Parenthood, which is closed now, but at the time we were next door, and she came right over and said that she'd had a change of heart on abortion. She walked right into my office, and then resigned the next day. She resigned on October 6 of 2009. The movie tells this beautiful story, this very powerful story, that all happened in Bryan-College Station.
JQ: You were working for Coalition for Life at the time. What prompted you to start 40 Days for Life?
SC: We saw local abortion numbers going up, and it was just out of frustration. And we thought, why don't we take this 40-day time period that God gives us throughout scripture and just go back to the basics and pray and fast for an end to abortion and hand these 40 days over to him, with the intention of ending abortion and helping save lives. So, we did 40 days of prayer and fasting, 40 days of community outreach, where we went to 25,000 doors and asked people to pray for an end to abortion throughout Bryan-College Station, as well as the 24-hour nonstop peaceful vigil outside of Bryan Planned Parenthood. So that was the first ever 40 Days for Life campaign, and it helped drop abortion numbers in Bryan by 28%. But it really got a lot of new people involved. In the fall of 2007, David Bereit and I launched it as a national effort, hoping to get 20 cities, and we had 89 that first year, and all of that is depicted in the movie as well. And then it just took off. We do two campaigns a year, and 40 days for life has left Bryan-College Station and has gone to now 816 cities in 56 countries.
JQ: The film is about events in Bryan and College Station. Was any of it filmed here?
SC: Some of the B-roll is going to be from Bryan-College Station, but they did not film here, they filmed in Oklahoma. They visited many times, and they went to our office, which is the now-closed Planned Parenthood, and they rebuilt that building in Oklahoma.
JQ: As the founder and director of 40 Days for Life, you're accustomed to speaking on the issue of abortion. Is that what this film is about?
SC: Yeah. It really is, and I didn't know it. We worked with these people for four years, and you don't know if you're going to be portrayed in a bad movie or a good movie or you know, am I going to get hit by a car halfway through? They really can do whatever they want once they buy the rights to the story. But they really followed Abby's book accurately. But one surprising element was how much of an education about abortion the movie actually is. Whether you support it or not, you will know what it is. And that was the biggest surprise to me. It's how good of a job they did, not just in the dialogue. Because it's hard to make a movie about abortion. It's not an in-your-face movie. It's not a propaganda, hit-you-over-the-head movie. It's a real movie. And Abby was a real Planned Parenthood employee of the year, and her parents really didn't want her working there, and her husband didn't want her working there. And I think all of these stories are about family. A lot of people will be able to relate to that, whether you have kids that are against abortion and you don't like that, or you have kids who are for abortion, and you don't like that. It really will connect a lot of hearts, no matter where people stand on the abortion issue.
JQ: Who came up with the idea for the film?
SC: The two men who wrote "God's Not Dead," Cary Solomon and Chuck Konzelman. They said their next project they wanted to write, produce, and direct. So, they were looking for a new project and they were coming out of Mass and a sweet lady who they kind of knew came up and said, "You guys need to make this book into a movie!" And, of course, in their line of work, they get every crazy religious holy roller in the world running up to them and saying "you need to make this into a movie! God is telling me you need to do this!" It happens all the time. Yet they took God's plans, and they read the book, and they said, "You're right. We are going to make it into a movie." So, it's fun. It was a sweet old lady at Mass that walked up to them, gave them Abby's book and said, "You two guys need to make a movie." And they did it.
JQ: Who is the audience for the film?
SC: The audience for the film is anybody who supports abortion because that's really what you follow. You follow Abby and the reasons why she was the Planned Parenthood director, the reasons why she grew up pro-life, but started to understand that women need a right to choose and control their own body, and you follow her on this journey. And I think everybody who supports abortion will be able to relate to Abby. And very few people who are against abortion will be able to relate to Abby. She says that in her own story. So, I think that the primary target is people who support abortion because it's about one of the most powerful advocates for abortion that Planned Parenthood had and so, you know, why would she change her mind? Why go through all of that? And obviously for those who are pro-life, it's a great story of how we can reach more abortion workers. You know, 40 Days for Life has helped 186 abortion workers. Abby was #26 out of 186 that we've helped. But she was special because she ran the Planned Parenthood where 40 Days for Life started. She was our Planned Parenthood Director. So, the audience is very wide. I didn't think that going in. I thought it was going to be your sort of limited, Christian do-gooder audience, but it's definitely not that.
JQ: The film received an R-rating. What should people know about the film before they go?
SC: You can't take kids to see "Unplanned," but you definitely should take teenagers. But the R rating is for violence and blood. There's no cussing or nudity or profanity. There's none of that in "Unplanned." You definitely can take teenagers to see it. Our high schoolers I would say to see it, but it's a bloody movie. You watch an abortion along with Abby.
They should also know it's not a cheesy Christian movie. It's rated R, but you can see it. The MPAA gave it that rating, I believe, not because they believe abortion is rated R, but because they wanted to deter the Christian base from wanting to see it. But they need to know that it is well done, and they spent $7 million making this movie. That is $5 million more than they spent on "God's Not Dead," and it shows.
JQ: Where will "Unplanned" debut in Bryan-College Station?
SC: Premier and Cinemark in Bryan-College Station will have it. We will have nine screens throughout the weekend. We are giving away a lot of free tickets, but people need to go and see it on March 29th when it comes out. It is going to be very exciting for Bryan-College Station. It shows the community in a very positive light. It really shows the heart of what happened. It also is a powerful movie for women that have had an abortion. I always watch everything in the pro-life movement from their perspective, and there are a lot of women who had an abortion in that building and women who didn't go through with the abortion that Abby talked to, and who Abby talked into having an abortion. And all of that is very local. The rest of the world will see a great story. But Bryan-College Station lived this story for the 15 years that Planned Parenthood was open.