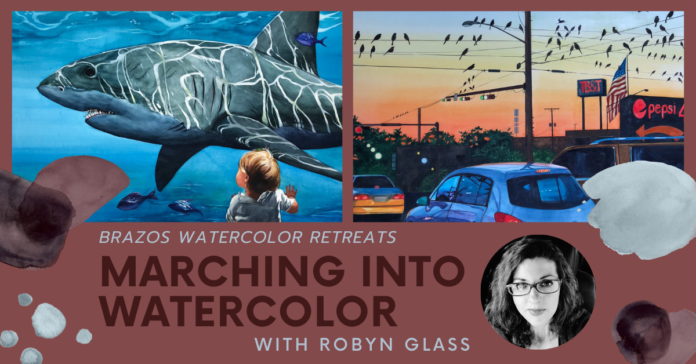 These past couple of months have been nothing short of hectic for everyone. If you're looking for an afternoon escape to relax and reconnect with your artistic self, come join Brazos Watercolor Retreats on Saturday, June 5 from 1-5 p.m. for an early summer watercoloring retreat led by artist Robyn Glass! Whether you are a seasoned watercolorist or just getting started, the workshop is open to all experience levels and will give you the chance to learn new watercoloring techniques through the guidance of one of BCS' most talented artists.
"I hope that participants will find the experience of learning at Brazos Watercolor Retreats different from others in that we teach techniques that can be applied to a variety of subjects," says Glass. "We teach the basics of watercolor and encourage our students to experiment and make pieces that feel personal and unique in some way."
Glass, a local full-time art teacher, started creating and drawing at a young age and has since been a semi-professional artist for about 20 years. During the retreat she will be guiding students through two different art projects: a koi pond and cherry blossoms. Both activities will give participants the chance to start and finish their very own paintings while being able to connect and learn with others. "After introductions, students will see me demonstrate the first few stages of the project, and then they will have time to take that information and lay out the first stages of their own piece," says Glass. "Each time they watch me demonstrate a method, that will be followed by time for them to sit and work independently while utilizing those techniques. I'll walk around and offer help during independent work time. This is also a time for us all to socialize and get to know each other a little. Sometimes we snack, too. It's a lot of fun."
The retreat will be taking place in the studio of artist Wendy Keeney-Kennicutt, about 10 minutes from the A&M campus in an area abundant with beauty and nature close to the Brazos River. The calming scenery perfectly compliments the event as it is the ideal space to be able to enjoy art, turn off your phone, and just take a well-needed break. "Making art gives a person a mental break and can literally increase serotonin levels. It allows a person to focus on what is in front of them instead of worrying about all the things they can't control," says Glass. "And, then, ideally, you have a beautiful thing at the end of it that gives you pride and a sense of accomplishment. It is wonderful!"
And on June 25 and 26, you can continue developing your skills at Lazy Watercolor Afternoons, where for a nominal fee, you can bring your current projects and while away the afternoon painting with others. Keeney-Kennicutt will be on hand to offer advice and input.
The retreat will be limited to 10 attendees, and admission costs $60. More info about the events, directions, and how you can purchase a spot for an afternoon of watercoloring with Robyn Glass can be found here. Current CDC guidelines will be followed throughout the workshop to ensure the safety of all participants. All materials, as well as snacks, will be provided but participants can bring their own painting supplies if wanted.
Sources:
Interview with Robyn Glass
https://brazoswatercolorretreats.com/?hl=en
https://brazoswatercolorretreats.square.site/product/watercolor-with-robyn-saturday-june-5-1-5pm/10?cs=true&cst=custom