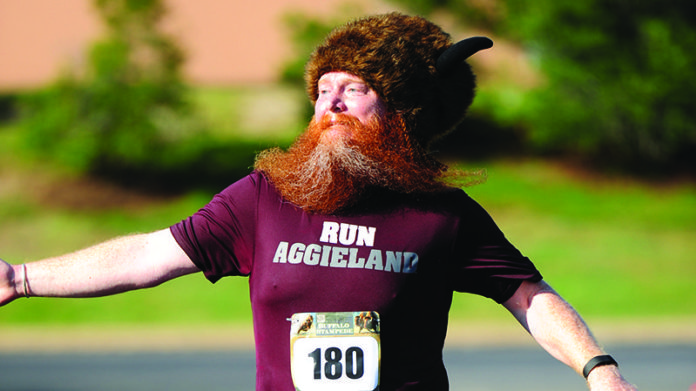 On October 5, the Brazos Valley Museum of Natural History is hosting their 11th Annual Buffalo Stampede Half Marathon and 5K Races! For runners of all ages and experience, this course offers participants the opportunity to support the Museum, win prizes, and have fun.

The route begins and ends at the Brazos Valley Museum of Natural History, running through scenic Bryan. According to the museum's website, "These are beautiful courses, well organized safe runs with water stops, porta johns, great running music, cool T-shirts for all, fabulous half-marathon & 5K finisher medals and custom buffalo age group awards, and post-race refreshments."

The 5K Race begins at 7:45 a.m. and follows 1.55 miles of the Half-Marathon, which begins at 7:30 a.m. Additionally, each runner can participate for free in the Boonville Days Festival activities at the museum after their run, any time from 9 a.m. to 4 p.m.
If running isn't your forte but you'd still like to participate, the Buffalo Stampede also has sign-ups for Cheer Stations to encourage the runners.

Registration is open now, with packet pick-up and late registration available on Thursday, Oct. 3, 10 a.m. to 5 p.m. and Friday, Oct. 4, 10 a.m. to 5 p.m. at the Museum. Registration on race day is only accepted from 6-7 a.m., but the best time to sign up is today!

The event will take place rain or shine, and for athletes, family, friends, and sideliners, there will be a little something for everyone. 

The Buffalo Stampede starts at 3232 Briarcrest Drive, Brazos Center Bryan, TX 77802. For more information and to register, visit http://bit.ly/BuffaloRun2019.