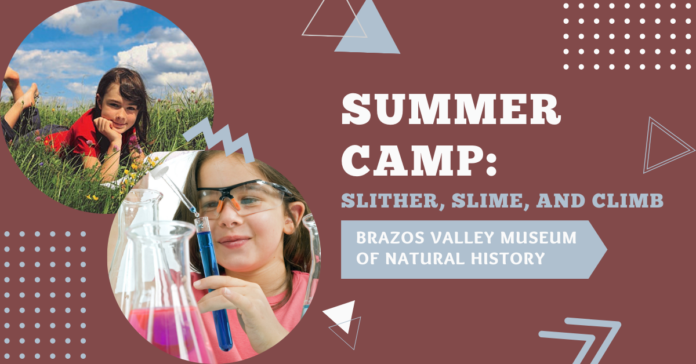 Though kids are out of school and are enjoying the last moments of freedom, who says they can't stay excited about learning? Let your child's curiosity roam wild in the world of science by signing them up for Summer Nature Camp at the Brazos Valley Museum of Natural History!
Unlike a traditional day at school, Summer Nature Camp provides kids with a more focused and hands-on educational experience centered around some of science's most captivating topics in small groups for intimate learning. The camps are designed for kids ages 4-12 but are so popular, the age 4-9 categories are currently "waitlist only." Slots are still available in the 10-12 age group. From August 2-6, campers will be participating in "Slither, Slime, & Climb," a fascinating look into the creatures and critters that get around a bit differently from those with feet.
Group sizes are limited with personalized instruction, and COVID-19 safety procedures in mind. So parents, you can feel a little more comfortable knowing your child is being well-taken care of under the direction of experienced teachers along with the fact that the learning will take place across different classroom areas in the museum as well as in their 40-acre park.
Ready to sign your little ones up for camp? Head to the museum's website to learn more about how your child can get a head start in their future STEM career this summer. Spots are $100 per child if you are a museum member and $120 for non-members. Camp will run from 9-12 p.m. each day with before camp care available at an additional cost.
Shake up your child's summer morning routine and give them a reason to see nature and science in a whole new light at Summer Nature Camp!