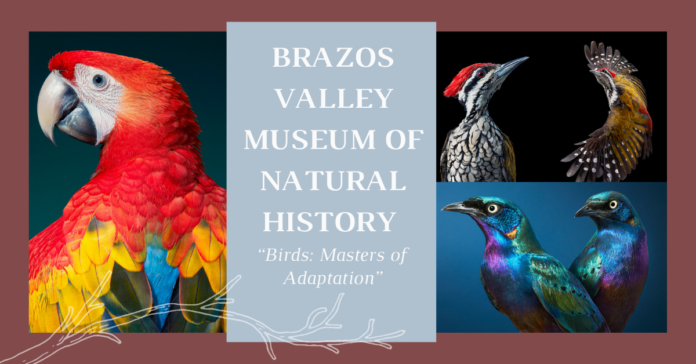 When looking for a fun-filled way to spend your free time, one option to not overlook is the The Brazos Valley Museum of Natural History! With their newest in-house exhibition, "Birds: Masters of Adaptation," on display until May 1st, you definitely have some time to stop by and learn a thing or two about these amazing creatures.
Featuring birds from around the world, this exclusive exhibit focuses on a wide range of topics such as bird anatomy, egg shape and size, how they build nests, and the many ways these animals are able to adapt to the world around them.
As guests wander throughout the exhibit, they can also admire a variety of "rarely-seen" specimens such as the tallest bird in North America, the endangered Whooping Crane. Other birds on display come from the museum's own personal collection, as well as from the Biodiversity Research and Teaching Collections, the Poultry Science Department at Texas A&M, and private collectors.
Before you leave, make sure to check out the photographs from world renowned animal photographer Tim Flach whose colorful pictures of different birds such as the Macaw, Woodpecker, and Spendling Starlings are sure to catch your eye!
While there are a ton of learning opportunities throughout the exhibit, one thing guests can hopefully take away is "renewed appreciation for the diversity of birds that are in the world," says Dr. Deborah Cowman, Executive Director of the museum.
"I hope people realize all of the many, many ways birds have adapted into their environment," Cowman says. "Birds are highly intelligent, so I hope that visitors will learn that and take away a new respect for them."
With many different items on display, and a little over a month until the exhibit ends, make sure to grab your family and friends and stop by The Brazos Valley Museum of Natural History to learn more about these awesome avians!
Source: Whooping crane