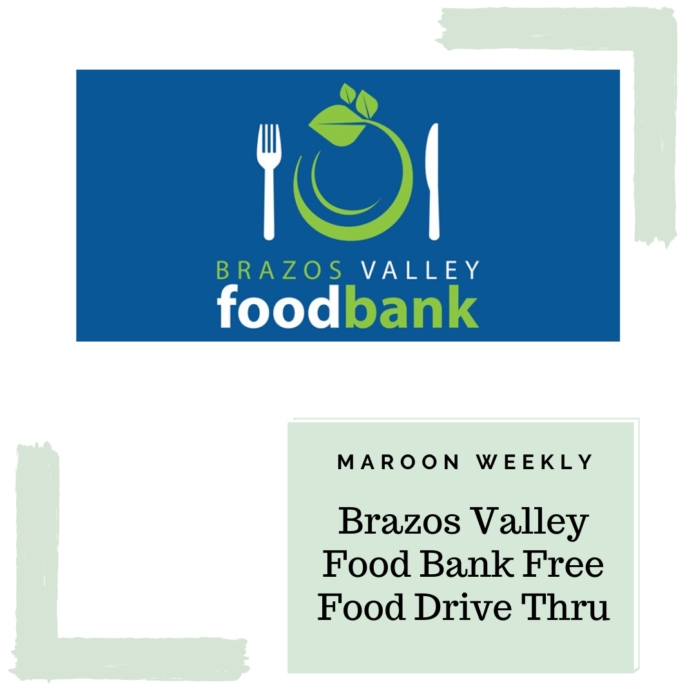 Nourishing the community in this current time of unprecedented need is no easy task. People who are out of work are struggling to make ends meet, and Brazos Valley Food Bank has been striving to help nourish the community by giving those in need pantry items, fresh produce, and up to two hot Chick-fil-A meals at local free food drives. Brazos Valley Food Bank is hosting an upcoming drive-thru on Friday, May 22, from 11-2 p.m. at Veterans Park & Athletic Complex.
Brazos Valley Food Bank is hosting free food drive-thrus in various locations throughout the Brazos Valley, efficiently dispersing food products to a large number of people in a small amount of time while also limiting exposure to COVID.
Anyone in need can take this helping hand without having to fill out pesky paperwork or even show an I.D. Verbal questions about the number of people in the household and age, race, and whether they have visited a food bank before are the only questions to answer when arriving at the mobile drive. The Super Distribution Center in Bryan last Monday helped 629 households, and the one in Madisonville helped 300 last Friday. Executive director Theresa Mangapora says they "anticipate the event this Friday in College Station to see over 500 households."
While drive-thrus aren't as personable as a client choice pantry where the household in need can choose what products they need, the mobile food bank makes food distribution during this crucial time possible. The mobile food bank comes through Madisonville, Brenham, Navasota and Burton on a monthly basis, and there will be seven total drive-thrus in May.
Supplies are limited because of the dramatic drop off in food donations, but foundations, corporations, and the government have helped the food bank be able to keep feeding their community. The Texas Department of Emergency Management is the main supporter of the Brazos Valley Food Bank, and there are multitudes of ways to contribute and help feed the community.
H-E-B stores in Bryan, College Station and Brenham are offering a way for shoppers to conveniently donate to the Brazos Valley Food Bank via the Help End Hunger benefit. When a customer says they would like to donate at checkout, H-E-B adds $1, $3, or $5 to the grocery bill and sends all proceeds to the food bank. This event lasts through June 2020, but donating money through the Brazos Valley website or volunteering can take place at any time! Donating $1 allows for Brazos Valley to feed five households and volunteering helps the drive reach more people in need.
There are three remaining drive-thrus in May. Wednesday, May 22, at Washington County Fairgrounds in Brenham, Friday, May 29, at Robertson County Fairgrounds in Hearne, and Saturday, May 30, at Grimes County Fairgrounds in Navasota.
To make a donation or find out more information, visit https://bit.ly/2WN7YB4.
SOURCES
https://www.bvfb.org/brazos-valley-food-bank-volunteer-proces https://www.bvfb.org/events-and-campaigns