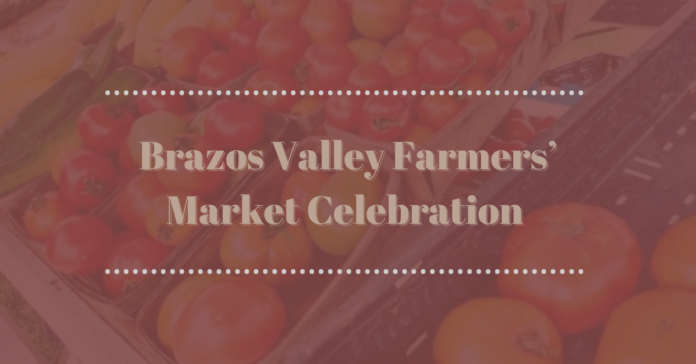 Imagine a sunny Saturday morning with your favorite summer flowers, fresh produce, local heavenly honey, and beautiful artwork. Luckily, you don't have to imagine for long because every Saturday from 8 a.m. – 12 p.m., vendors from all over Brazos County bring their fresh produce and homemade goodies to sell at the Brazos Valley Farmers' Market.
On Saturday, June 4, it's even more amazing because the market will be celebrating their 8th anniversary, so you can enjoy live music and try to win one of the fantastic raffles. Maybe you'll go home with a brand-new Barbeque grill or a basket with items from every vendor!
The market anniversary will take place in Downtown Bryan at their usual location of 500 N Main St. Bob Norris, also known as the Tomato King and the organizer of the market, says the Anniversary Market is special because it's like a "summer kickoff," and more people are out at the market. Norris will of course be selling his signature tomatoes along with other fresh produce such as new potatoes, green beans, and squash.
Every week at the market, you can find just about everything: fresh eggs, herbs, flowers, tamales, microgreens, Indian cuisine, pickles, honey, nuts and jams. You'll also find melt in your mouth baked goods and hard-to-find, top-quality grass-fed beef, free-range chicken, and fresh duck eggs. Of course, there are also non-edible products as well, like handmade pottery and boxes, soaps, lotions, jewelry and jackets. You can even pick up a few delicious treats for your pets!
Not only is there a number of products to purchase, it's just fun being there, wandering from stall to stall. Don Talbott of Delectables by Chef Don says he loves selling at the market because "everyone's in a great mood. People are out talking with friends, and it's a good atmosphere."
Even when it's not the yearly celebration, most Saturdays feature all the produce you can eat, fresh baked goodies and those one of a kind gifts your friends will treasure. You can find a complete list of the vendors here. Come on out to the Anniversary Market and kick off your summer!