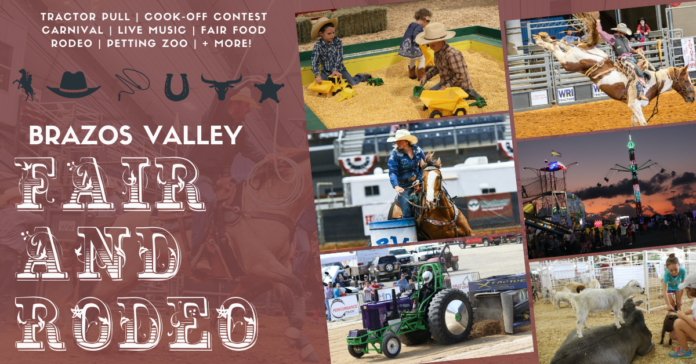 Let's rodeo Brazos Valley! After a year of unexpected circumstances due to COVID-19, the Brazos Valley Fair and Rodeo is completely back in the saddle. Benefiting the community through education, scholarships, and entertainment, the Fair and Rodeo has been dedicated to its mission to "Showcase Agriculture, Youth, and Education to Enhance Our Texas Culture."
On October 16-24 there'll be a full week of events for the whole family to enjoy! The weekend kicks off with a tractor pull and cook-off contest. For the rest of the week, you can enjoy the carnival, all you can eat fair food, and of course the rodeo. For the kids, there're plenty of kid-safe and interactive activities such as a petting zoo, mutton-bustin', pony rides and much more.
Of course, you can't have a rodeo without some good ole fashioned country music! With concerts featuring Mike Ryan, Shenandoah, Los Tigrillos, and Los Tercos, you're sure to get into the rodeo spirit. And great news—the $12 General Admission tickets for each day include the concert!
Mike Ryan, a San Antonio bred country singer and songwriter, will be the headliner on Friday at 10 p.m. Making both Texas and national charts with his emotionally provoking and lyrically brilliant songs, Ryan has found great success with his original songs such as "The Rewrite."
Shenandoah is the Saturday headliner, also performing at 10 p.m. With their 10 studio albums, three of which are certified gold, and 26 singles placing on Billboard's Hot Country Songs charts, Shenandoah's certainly got some musical stories to tell that you won't want to miss.
Opening Sunday will be Los Tercos, taking the stage at 7 p.m. This four man band was nominated for the "Best Northern Music Album" in the 2017 Latin Grammy Awards, and you might have heard their songs "Por Usted" and "El Mexicano" on Radio Alegria.
Los Tigrillos headlines at 8:45 p.m. with a mix of Cumbia and norteño styles. Los Tigrillos has several certified gold albums and has been performing together since the early 80s. With hits like "Báilame," "Mira Oye" and "La Ética," it's no wonder they have over a million followers on Spotify.
Besides the entertainment aspect of this year's Brazos Valley Fair and Rodeo, this is a great opportunity to give back to the community and support young individuals who work hard all year to compete in livestock showings along with the professionals who train to compete in the various rodeo events. Don't miss out on this fun-for-everyone event that gives you an excuse to pull out your cowboy boots and hats!