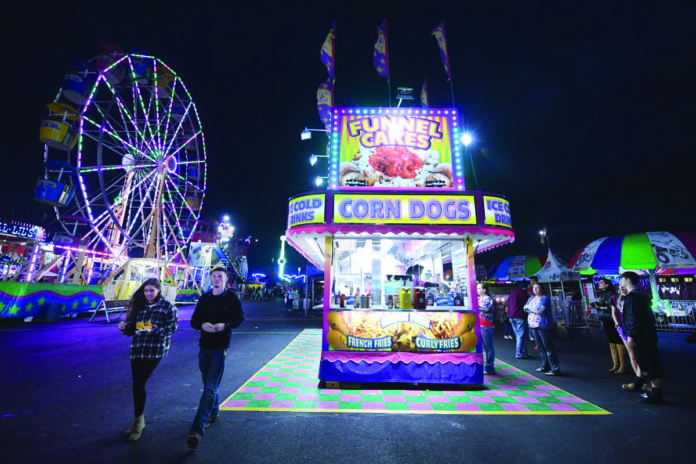 Three days of fun are waiting for you at the eighth annual Brazos Valley Fair and Rodeo October 18-20!

First up, the rodeo! This year's rodeo festivities are brought to you by the Cowboys and United Professional Rodeo Associations. See daily performances in Bull Riding, Saddle Bronc Riding, Bareback Riding, Team Roping, Steer Wrestling, Break Away Roping, Tie Down Roping, Barrel Racing, and Mutton Bustin.

Also, the Fair! Don't miss out on the interactive features of the AgLand Classroom and AgLand Kids Barn. The AgLand Classroom teaches guests about where our food and fiber come from, how to milk a cow, cuts of meat and more. Kids will be able to use a milking cow tool to learn the art of milking while having fun. They can also take a run through the hay maze, or try their hand at the stick horse races, visit the petting zoo, the mechanical bull, the dairy exhibit, a western roping area and the pony rides.

Guests will have access to the Animal Exhibit, where all ages can enjoy watching baby chicks hatch. Stop by the chicken coop or visit the pigs, goats, horses, and cows. You'll not only get to see great animals up close, but can learn what they eat, where they live, and how big they grow to be. You can also catch the Swifty Swine Pig Races, where you'll watch piggies compete for a grand prize oreo cookie. Swifty Swine travels all over the United States, bringing this unique form of family entertainment to their fans.

And the Carnival! Of course, no fair is complete without a carnival. The Pride of Texas is the official carnival of the Brazos Valley Fair. At the carnival, you can enjoy cotton candy and funnel cakes, ride classic carnival rides and play games to win prizes. Kids can also visit Charity the Clown to get their face painted before the rodeo, or while parents shop the variety of vendors.

Don't forget the music! Roger Creager will perform on Friday, Oct 18 at 9:45 p.m. Blackhawk on Saturday Oct 19 at 9:45 p.m., and Grupo Pesado on Sunday at 7:00 p.m.

The Brazos Valley Fair and Rodeo is open on Friday, October 18 from 4 p.m.- midnight, Saturday from 10 a.m.- midnight, and Sunday from 12- 11 p.m. General Admission tickets are on sale now for $15 for ages 13 & older and are good for one day of the Fair. Ticket prices are subject to change, and early bird specials may be available for a limited time. Parking on the Fair Grounds will be Free to the General Public. NO Refunds. Rain or Shine.

For more information visit https://www.brazosvalleyfair.com