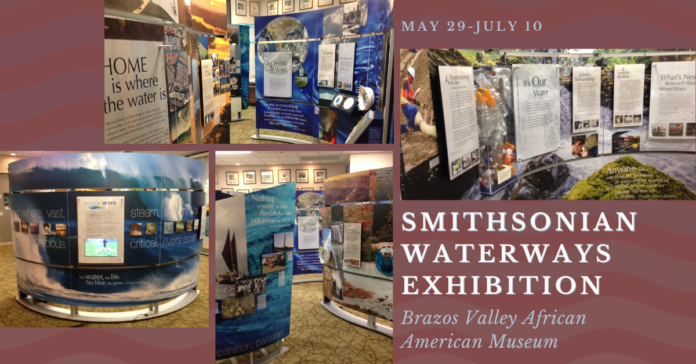 How often do you stop and admire the creek at the local park or ponder where the water in your bottle came from? Water makes up 60 percent of the average human body and covers 71 percent of the Earth's surface, yet it is often overlooked as an integral part of human culture and history. The Smithsonian Waterways exhibit, coming to the Brazos Valley African American Museum in Bryan from May 29-July 10, looks to educate the community on the role water plays in our society's past, present, and future.
The Smithsonian Institute's traveling exhibition service, Museum on Main Street, brings Smithsonian exhibits to small town communities, and this isn't the first time that the BVAAM has partnered with the Smithsonian. In 2018, Museum on Main Street brought "Hometown Teams" to BVAAM, an exhibit that examines the role of sports in American society.
The Waterways exhibit isn't just some children's science lesson though. The exhibit explores the human relationship with water on multiple levels. Water is looked at through an anthropologist's lens by showing how Americans use water, how water causes conflict, and how water affects our migration patterns. It also shows water from a conservationist's viewpoint, looking forward to the future with an examination into how water can be properly sunstained for years to come. The exhibit consists of multiple interactive kiosks, a video monitor, a watershed model and several freestanding boards with informative text and photographs. This combination of mediums is meant to create a deeper understanding of water in our world in a compelling and fun way.
The BVAAM is located at 500 East Pruitt Street in Bryan and is open from 10 a.m. to 5 p.m. Tuesday through Friday and 10 a.m. to 4 p.m. on Saturdays. Tickets are $5 for adults, $4 for senior citizens, and $2 for students and can be purchased at the museum. Children 5 and under are free. For more info about BVAAM and the exhibit, click here.
Sources: http://www.bvaam.org/?event=smithsonian-waterways-exhibition&event_date=2021-05-29
https://www.sites.si.edu/s/topic/0TO36000000L5MjGAK/waterways
https://museumonmainstreet.org/content/waterways
https://www.kbtx.com/content/news/Smithsonian-exhibit-on-display-at-local-museum-481837261.html