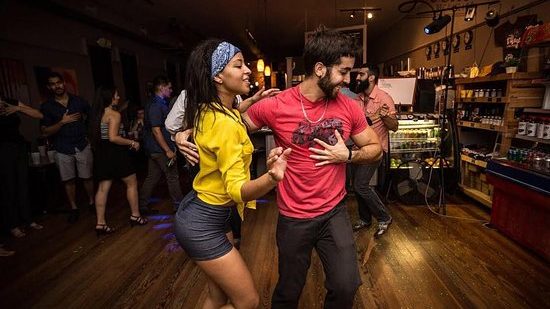 What if there was a place you could get some exercise, learn a new skill, and build some confidence while having some good old fashioned fun? Well, there is! Join Brazos Salsa Nights every other Friday beginning August 30 at the Brazos Ballroom Dance Studio for an evening of dancing and sweep your blues away!

Brazos Salsa Nights was started just three years ago by owner Kevin Babilonia, whose philosophy is that dancing improves our lives. "When you dance, you create your own world and you take a break from everyday life," Babilonia says.

In starting Brazos Salsa Nights, his goal was to build a safe and inclusive atmosphere for people of all ages and provide an alternative to Northgate festivities, and it's growing in popularity. Every other Friday until December , for the same amount as what you'd spend on a fancy coffee, you can dance the night away. And you can even bring your kids!

But the fun doesn't end there. Brazos Salsa Nights also extend to Saturdays at The Village in Downtown Bryan, and if you're looking for even more, Babilonia teaches dance classes at the Brazos Ballroom Dance Studio in what he calls SALSAnia Dance School on Sundays. All major Latin dances are covered in his classes, including Salsa, Bachata, Merengue and Cumbia, and he's starting a new 10 week dance course covering these dances on the first Sunday of September!

If you have a local or student organization that would like to participate, Babilonia welcomes collaborations. So grab some friends, invite your family or just head on over solo! Take a break and enjoy something new!

The first event of the fall 2019 season is August 30 at Brazos Ballroom Dance Studio, located at 501 Graham Road in College Station. The night will begin with a lesson in Bachata at 8 p.m. followed by social dancing starting at 9 p.m. and lasting until 12 a.m. There is a $5 cover, and BYOB.

SALSAnia Dance School costs $50 per person or $90 per couple, due the first day of class. Couples costs will be discounted until August 28. Payment options and the 10 week class schedule are listed on the Brazos Salsa Nights Facebook page.
For more information, visit: https://www.facebook.com/BrazosSalsaNightCollegeStation/?epa=SEARCH_BOX