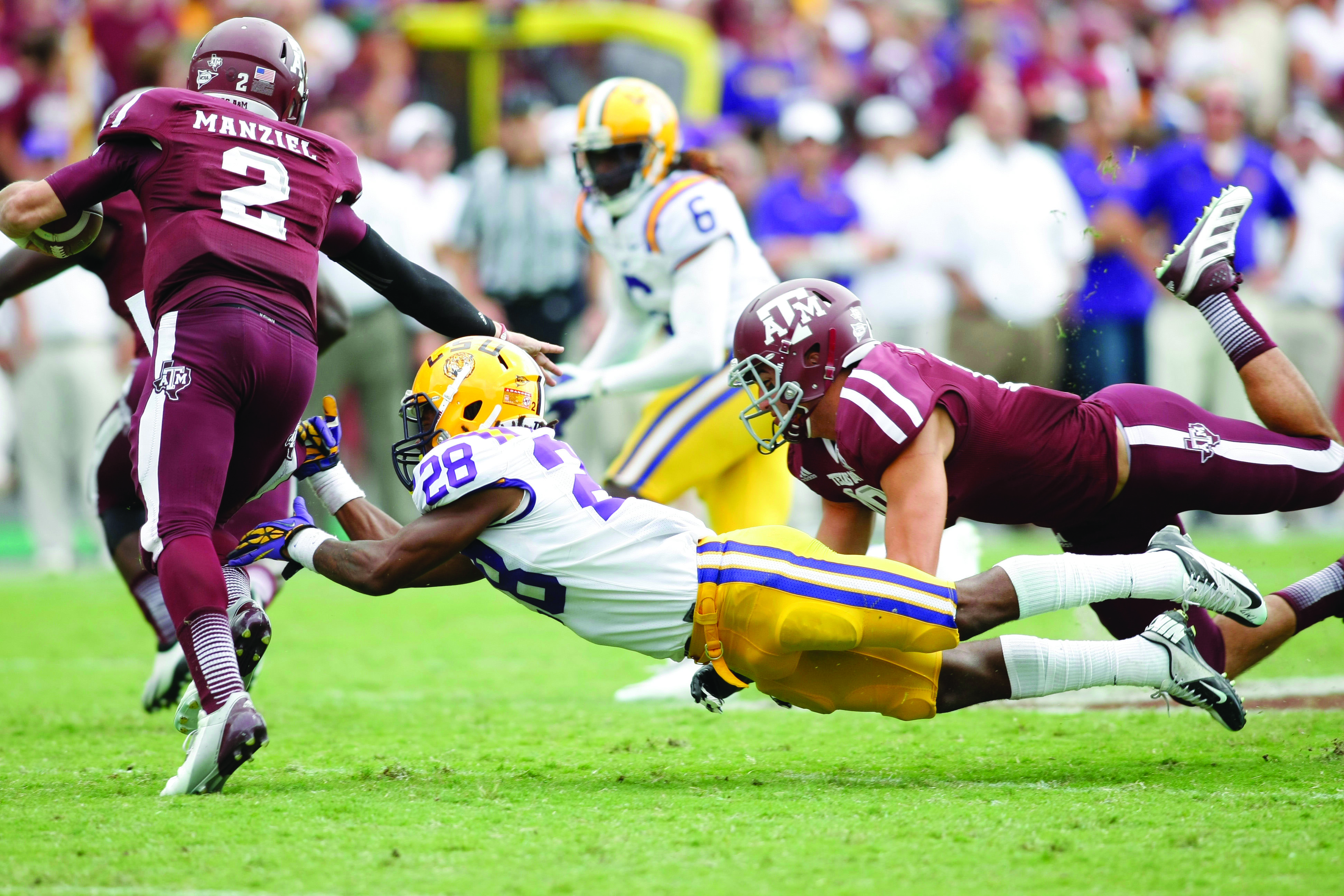 [et_pb_section admin_label="section"][et_pb_row admin_label="row"][et_pb_column type="4_4″][et_pb_text admin_label="Text" background_layout="light" text_orientation="left" use_border_color="off" border_color="#ffffff" border_style="solid"]
As the Aggies' fifth SEC football season comes to a close, the LSU Tigers will make the trip to Kyle Field on Thanksgiving Day. LSU, Louisiana State University, is the only team the Aggies have yet to come out as the victors against since joining the SEC prior to the 2012 season.
On October 20, 2012, LSU handed Johnny Manziel and the Aggies their second loss of the season, one they would finish 10-2 with a huge win over Alabama in Tuscaloosa. The LSU defense forced five turnovers, three of which were interceptions thrown by Manziel, and won the game 24-19, despite the Aggies leading 12-0 at one point in the game.
On November 23, 2013, the game between the two foes was nowhere near as close. LSU came out the victors once again in a 34-10 rout of the then ranked number 12 Aggies. Manziel called the game a punch in the face. He was intercepted twice as well as being sacked. This game ended the Aggies' road win streak at 10 games.
On November 27, 2014 came the game every Aggie will remember for the rest of their lives. It can be described in three easy words; LSU was offsides. Leonard Fournette ran for a then career-high 146 yards, effectively running over an already weak Texas A&M defense. The game ended on an interception by LSU's Jalen Collins with 1 minute and 21 seconds left on the clock. Many Aggies would tell you that the interception should have been negated due to the fact that an LSU defensive linemen, Sione Teuheme, moved toward the Aggie offensive line in an infraction of the neutral zone.
In an extremely emotional season closer on November 28, 2015, the Tigers once again came out the victors in a game that effectively saved LSU head coach Les Miles' job, at least for the moment. Although the Aggies held a one point lead going into the half, they would come out the losers at 19-7 watching the Tigers hoist Les Miles onto their shoulders and walk off the field victors once again.
For the last time on Thanksgiving Day, the Aggies will face off against LSU on Thursday 24 at 6:30pm, looking for their first win since joining the SEC over the Tigers in purple and gold. While our season hasn't shaped up the way we hoped it would, let's rally around our team for the last home game of the 2016 season.
[/et_pb_text][/et_pb_column][/et_pb_row][et_pb_row admin_label="Row"][et_pb_column type="4_4″][et_pb_image admin_label="Image" src="https://maroonweekly.com//wp-content/uploads/2016/11/subLSU-superJumbo.jpg" show_in_lightbox="off" url_new_window="off" use_overlay="off" animation="left" sticky="off" align="left" force_fullwidth="off" always_center_on_mobile="on" use_border_color="off" border_color="#ffffff" border_style="solid" /][/et_pb_column][/et_pb_row][/et_pb_section]