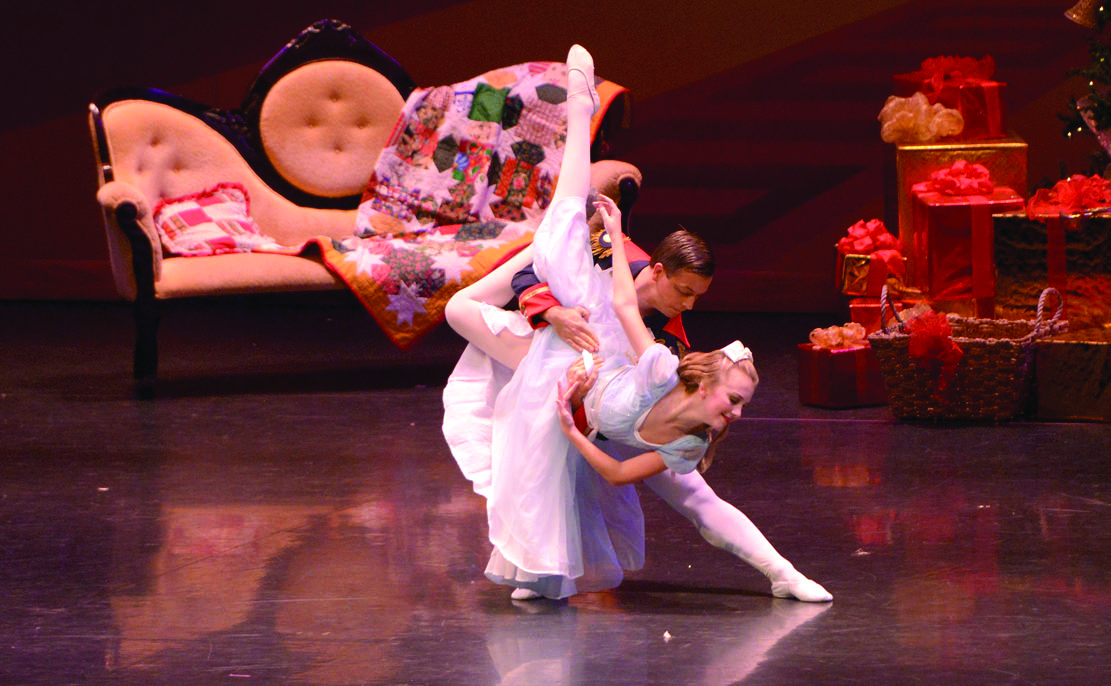 Christmastime is a season when the winter darkness and festive lights conjure images of sugar plum fairies, toy soldiers, dancing snowflakes, and even a nutcracker who comes to life. What better way to enjoy the wonder and delight of the holiday season than experiencing the ballet that inspired those images? Ballet Brazos brings the seventh annual production of the "The Nutcracker" to Rudder Auditorium at Texas A&M University on Saturday, December 8 at 2 p.m. for a matinee and at 6 p.m. for an evening performance.
Ballet Brazos considers the annual production of "The Nutcracker" its main performance, according to Janét Falcone, Vice-president of Ballet Brazos. "Our hope," Falcone says, "is that the entire audience will be thrilled and impressed by the sets, props and beautiful costumes of the production."
These dedicated dancers have been rehearsing for over three months, and all that hard work culminates in a ballet that is both grand and delightful, perfectly capturing the Christmas spirit. Falcone says, "It's a very intense and condensed schedule, but the excitement grows until the big day arrives. Since we are a ballet company, all must be actively enrolled in ballet classes at their preferred studio."
Ballet Brazos is a volunteer-based organization, meaning that each dancer's family volunteers to help with operations surrounding promotion, rehearsals and performances, and many of the performers pay to audition and perform. All of this offsets the many associated costs of the production. Falcone explains, "'The Nutcracker' is our main focus and source of revenue, as well as gracious and important donations and support from local sponsors and businesses."
In addition to all the talent and hard work of our local ballet corps, Ballet Brazos invited two guest artists from the New York City Ballet to perform. Ashley Laracey will dance as the Sugar Plum Fairy and Andrew Veyette as her Cavalier. Additionally, Falcone says, "We will have two guests coming from the Dallas area." The majority of other dancers are from around the Brazos Valley and Texas.
Tchaikovsky's powerful compositions along with remarkable sets and costumes are what keep ballet fans returning to this Christmas classic year after year. In fact, Falcone considers the score "so well known, I'd bet many will leave humming their favorite themes."
Directed by Suzanne Moreau and Diana Wilcox, with Katy Ellison serving as artistic advisor, each component of the two-act performance has been thoughtfully planned and executed, and audiences can expect to be whisked away by the wonder of it all. Falcone provides a glimpse of that wonder in her description of the famous snow scene: "The Prince and Clara travel to the beautifully serene Land of Snow to meet the Snow Queen and her sparkling corps de ballet that drift and shimmer, even as the snow begins to fall from the sky." Falcone concludes,"I sincerely hope that each member of the audience will simply lose themselves for a bit of time to the magic that is 'The Nutcracker.'"
Come enjoy the magical experience of Ballet Brazos' "The Nutcracker" just in time for the Christmas season. Tickets may be purchased at the MSC box office or at the Ballet Brazos website. The price range, depending upon seating location, is from $8 children's tickets to between $15, $20, and $30 for adults. Parking is available for $5 cash at the University Center Garage, for the hourly rate at Cain Garage, or for purchase in advance at https://tamu.pmreserve.com.
This ballet appeals to all ages—even Scrooge himself wouldn't be able to stay away!