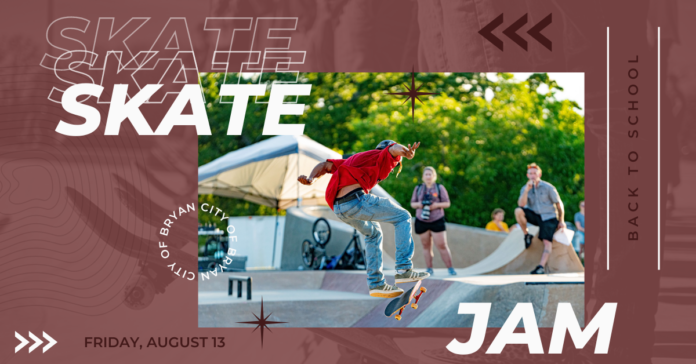 Regardless of where they grew up, every four (or in this case five) years, kids around the country spend the last few weeks of their summer break replicating the sports they're watching in the Olympics. This year, with the introduction of skateboarding as one of the new events, there's bound to be thousands of young people heading to their local skate park for the first time. One perfect opportunity to test your skating and BMX biking skills is at the Bryan Parks Department's Back to School Skate Jam, Friday, August 13, from 5:30-8:30 p.m.
Whether you've been skating as long as Tony Hawk or have never even stood on a skateboard, the Back to School Skate Jam has everything you need to have a good time: free pizza, free drinks, rockin' tunes, and fun prizes.
The venue for the Skate Jam is Bryan's Williamson Park. Williamson Park's skateboard park was the first in the area, and boasts multiple ramps and rails, two bowls, LED lighting, and public restrooms. In addition to the skate facilities, the park also features multiple picnic pavilions, BBQ grills, a basketball court, and children's playground.
The city of Bryan's first ever Back to School Skate Jam is scheduled for There's no registration, and the event is completely free. All attendees need to bring is their favorite scooter, board or bike, and a looking-for-fun attitude! For more information on the event, visit the Bryan Parks and Recreation website or Facebook page.