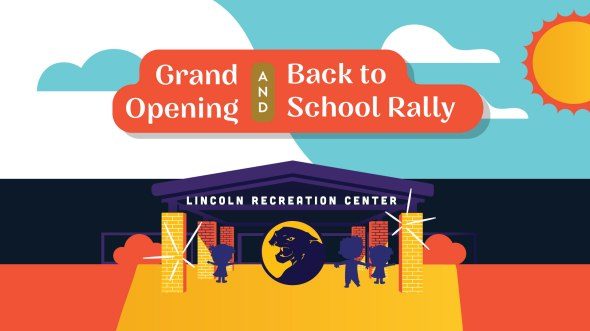 The school year is hot on summer's heels, and by now, kids are starting to get excited and maybe a little nervous about starting a new year. It always helps to have a friend to navigate testy waters with, and this Saturday, the College Station Police Department's annual Back to School Rally can help your kids ease some of those nerves while reconnecting with friends they might not have seen all summer.
The Back to School Rally is dedicated to the community of College Station to provide a carefree event for you and your children in preparing for their first day of school. The Rally is hosted at the Lincoln Recreation Center, and families nearby the Center and across College Station are welcome to attend!
Officer William Snell is a police officer with the College Station Police Department Community Enhancement Unit, which focuses on creating bonds and trust between the police department and citizens of College Station. According to Officer Snell, the Back to School Rally is designed to bring "a spirit of cooperation, a greater sense of community, and a stronger feeling of cooperation to all involved."  This includes their sponsors, companies a College Station local will know well, like Target, Altitude Trampoline, and Grand Station, who help organize and present the Back to School Rally every year!
With a bounce house, games and the W.A. Tarrow splash pad, you can expect the event to be loads of fun.  There will be booths with projects for your children to enjoy, provided by groups like the Alpha Phi Alpha fraternity of Texas A&M, which is bound to a purpose of respect and service for others. Also participating will be Texas A&M's PK-12 Engineering Education Outreach organization, Spark, that will speak to the children about STEM (Science, Technology, Engineering, and Math) and will have an electronic-based project that's bound to be not only educational but fun! What's more, the Lincoln Recreation Center will provide school supplies like pencils, notebooks and more for children of the community, and there's even a free lunch!
"The Back to School Rally allows children and their parents to come out, have fun, unwind, and get ready to start school on a good note," says Snell. '"It really is an opportunity for the College Station Police Department and the citizens to get together and get to know each other, which allows us to do our jobs and reach our goals more efficiently and with better overall results."
In addition to all the other activities,  the College Station Police Department will have emergency vehicles on display and well as displays of city operations from local first-responders and booths. Assistant Chief Chuck Fleeger will be there, talking about Missing and Exploited Children and the disproportionate number of African American children that are missing from the Brazos Valley.
Don't delay or stress because this year, your local boys in blue plan to help you get this school year started  with fun, so come join them!
The Back to School Rally is a free event on Saturday,  August 3, from 10 a.m. to 12 p.m at the Lincoln Recreation Center. Lunch will be provided, and all ages are welcome.
To learn more about the Back to School Rally, visit https://bit.ly/2YwgZfD.