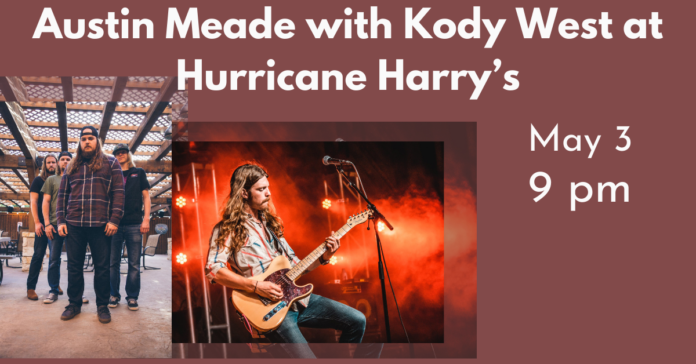 Hurricane Harry's once again is bringing the heart of country music right to College Station! On Tuesday, May 3, come out to Harry's to see Austin Meade and special guest Kody West to get your country music fix during the craziness of finals week!
Meade started his music career as worship leader for his father's church in Brenham, and while attending Texas A&M to earn his degree in business, Meade played as a drummer in a cover band. After playing many shows and being around music all the time, Meade discovered that he had a talent and passion for songwriting, too. He has since released three full albums and gained roughly 500,000 monthly listeners on Spotify. Some of his most popular hits are "Happier Alone," "Cave In," and "Pay Phone," but many would argue that all of his songs are hits, solely based on the talent he brings to the table.
Guest Kody West is set to open the show at 9 p.m. West is a fan favorite, who never fails to bring the energy and the heat to the stage with him. Starting his musical journey in 2014, he quickly fell in love with playing gigs and entering in songwriting competitions. He recorded his first EP "Higher Ground" in 2016. West and his band are sure to blow you out of the water with their music and good vibes before Meade takes the stage.
Doors open at 9 p.m. and tickets are $15, for those 18 and up only. Come get your country on and dance and sing it out with these amazing artists!