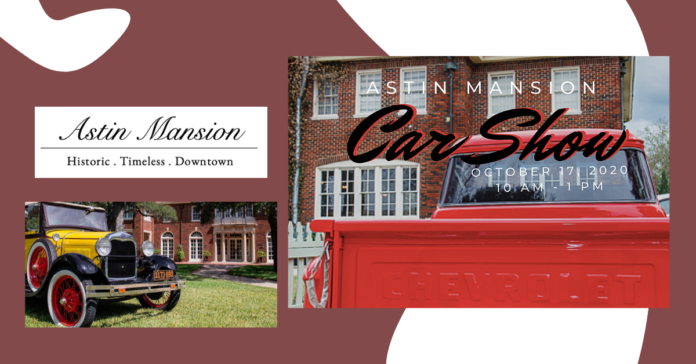 This one is for all of our car enthusiasts, or really anyone looking for a unique activity to fill their Saturday! On October 17, from 10 a.m.-1 p.m., the beautiful Astin Mansion in historic Downtown Bryan is hosting their first ever Car Show to celebrate the manion's 100th birthday!
Built in 1920 by Roger Q. Astin for his wife, Nina, the Astin Mansion has certainly weathered the test of time. In tribute to the occasion, vehicles from the past century will be present during the event. The car show is free and open to the public, and they are currently searching for vehicles that wish to participate. Patrons to the show will be voting on their favorite vintage rides, and the top three with the most votes will receive a prize!
Once the private home of one of the wealthiest families in the Brazos Valley, the Astin now serves as a wedding and event venue that offers all the services you need to celebrate a special occasion, from flowers to catering to decoration rental. The mansion also hosts a variety of events, including First Friday tours, the annual Valentine's Dinner, and even some photography classes.
Coming up this year at the Astin Mansion is the third annual Masquerade Ball, which will take place on October 30. The ball benefits Boys and Girls Clubs of the Brazos Valley, and it gives you an excuse to dress up and do some dancing, which is a rare occasion this year!
Do you have a vehicle you want to feature at the Astin Mansion Car Show? Click the link to register for only $25! Visit the Astin Mansion website and Facebook page for more information or booking inquiries for your next event.