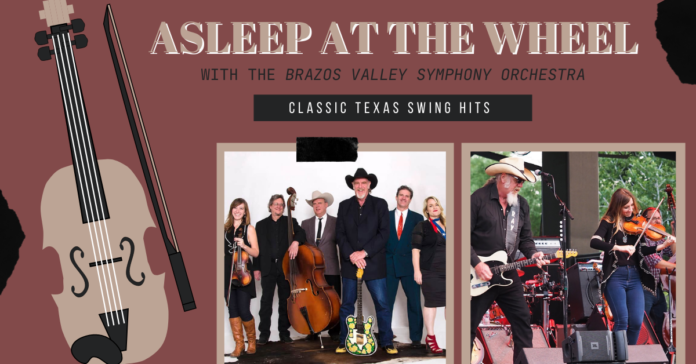 Toe tapping, finger snapping country music isn't the first thing that comes to mind when people think of going to a symphony performance, but for those in attendance for the BVSO's June 20 concert that is exactly what they'll get!
Since their start in Paw Paw, West Virginia, all the way back in 1970, Asleep At The Wheel has been dishing out classic Texas swing hits for over 50 years. Though the band originally started with just six members, they regularly tour and perform with seven or more of the best musicians around, who have later moved on to playing with legends like Van Morrison, George Strait, and Bob Dylan. Their impressive catalog of over 25 albums has netted the group 10 Grammy Awards.
The current touring group of eight features vocalists, strings, and a keyboard, and on June 20, they will be joined by the musicians of the Brazos Valley Symphony Orchestra. The only thing likely to disappoint is that the size of the venue will prevent you from two-stepping with your date when the music starts playing!
The concert will be held in Texas A&M's Rudder Auditorium beginning at 5 p.m. Face coverings will be required for those in attendance. Tickets for the performance are not included in the regular BVSO season pass, but they can be purchased from MSC Box Office with prices starting at $40.
Sources: https://bvso.org/event/asleep-at-the-wheel-w-the-bvso/