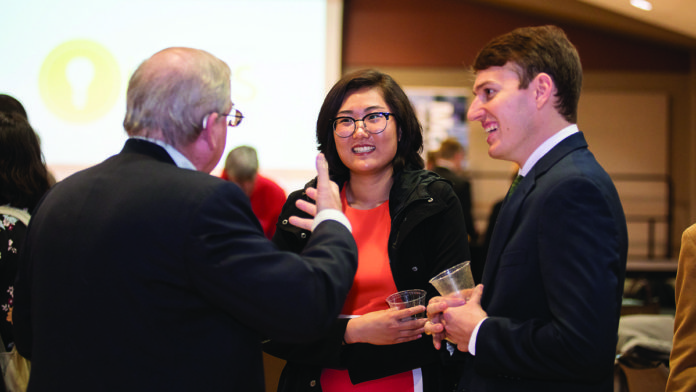 What do engineers, businesspeople, artists, scientists, athletes, and educators have in common? They all have the ability to change the world with just an idea.

This is the goal at the McFerrin Center for Entrepreneurship as they introduce the Fall 2019 Raymond Ideas Challenge, a business concept competition to showcase the ideas, prototypes, and technologies of students at Texas A&M. When applications open Tuesday, October 1, any student can submit a 45-second video pitch for a chance to win their share of $10,000. 40 finalists will be selected to present their individual idea to a panel of judges for a chance to show them the importance, the impact and problem-solving capability of the student's competing idea. The judging panel is composed of engineers, professionals, major firms or marketing experts, company representatives, entrepreneurs and business owners.

One of the McFerrin's oldest programs, the Raymond Ideas Challenge is endowed by the Frank and Jean Raymond foundation. "They were just really impressed by the ideas and creativity coming out of Texas A&M, and they wanted to always encourage students to be thinking out of the box…to never settle for the status quo," says Stephanie Burns, Communications Coordinator at the McFerrin Center. With the Raymond Ideas Challenge, Burns says "we're trying to quite literally ask, what's YOUR big idea?"

Burns also says "the best part of the program" is that students are able to present their ideas to a panel while practicing their ideations and skills. And not only that, but they all have the chance to network with professionals and judges present – even if they don't win a prize.

"It's really wonderful to see how all our judges and industry representatives seek out the students whose ideas they listened to," Burns continues. "They really do want to engage with the students."

When asked what the big takeaway of the event is, Burns says, "It's as simple as an idea. You don't even have to have the science or the knowledge or the capacity behind making your idea a reality." All the applicants need to do is record a video for the chance to win.

Audrey Fadal, Program Coordinator for the McFerrin Center for Entrepreneurship, says that as "crazy and as unplanned as their idea may be – I hope they are more confident in themselves and more prepared to put and live their idea in the world."

But what if you don't win the prize? How can participants still get the most out of this program? Says Fadal, "Again, networking is really important. [There is] just a plethora of knowledge in our mentors, judges, and screeners. Even if their idea is not the winning idea, at the end of the competition, if they put themselves out there and get practice being in front of a panel of judges, and if they network and take advantage of that time with judges, with these members of the community and of the business world, that is super effective."

When asked what challenges participants can expect, Fadal says, "They need to be prepared to answer questions and do a little bit more research into their idea to make sure it could be a viable business or viable idea, be prepared for speeches and to speak in front of judges, answer questions, think on their feet." She adds, "Be confident and put yourself out there, even if you just woke up that morning with an idea…that might be the next idea to win."

Burns further comments, "Don't be afraid – just put your idea out there. You can submit as many ideas as you want. Just don't be afraid to put your idea into the world, because you never know what could happen. You never know what could happen just from the spark of an idea."

No matter how crazy or wild the idea is, at the McFerrin Center, students are encouraged to take the risk. An event for all majors, classifications, and interests, applications for the Raymond Ideas Challenge will be open October 1-17.
For more information, email mcferrin@mays.tamu.edu or visit http://bit.ly/McFerrinRICFall2019.